I'm going to keep this short as I'm completely drained at the moment. As you are probably aware, we were at the Cleveland Clinic this afternoon in order to get an evaluation for childhood disintegrative disorder. If you new and need to get caught up, see this post and you'll pretty much be up to speed. We didn't have to wait very long after we arrived to be seen.
Gavin was however, very…….um…..talkative. Honestly, he just would not stop talking and it was mostly random, unrelated thoughts. When we met with the pediatric neurologist, she didn't seem to know why we were there. I was a bit confused by that but she was very interested so everything was okay there.

We went over Gavin's entire life. That was quite overwhelming because Gavin's history is very complex and confusing. Basically, everything that the doctor wanted to perform, as far as diagnostic tests are concerned, has already been done, in some cases multiple times. The only remarkable finding was reduced electrical activity of the left temporal lobe.
Keep in mind that she is a world class pediatric neurologist and she essentially said that she has absolutely no idea what's going on with him. She said that saying Gavin is extremely complex is an understatement. Essentially, because we have been so diligent over the years and in leaving no stone unturned, she's not sure what else there is to do.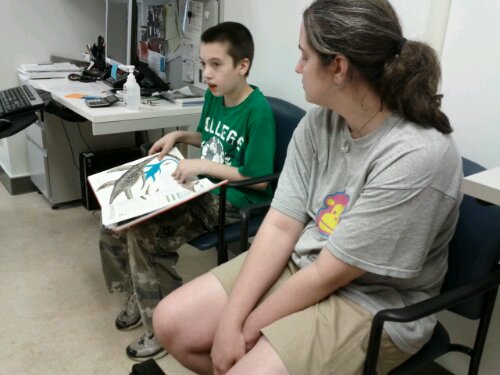 After we went over the bastardized version of his medical history we were able to put together on short notice she physically examined him. This is were the concern comes in. 
I'm just going to cut to the chase….. I don't have anything left for anymore details right now.
Basically, upon examination she discovered that Gavin has no reflexes anymore. She actually pulled another doctor into the room. It just happened to be Dr. G, Gavin's movement disorder specialist (also a pediatric neurologist) from earlier in the year. This actually worked out well because it gave us a baseline from about 7 months ago. 
He re-examined Gavin, and confirmed that he has no reflexes….at all. He also confirmed that they were present this past January. Just so that I'm clear, he has no upper extremity or lower extremity reflexes…period. 
I ask the obvious question, what does this mean? She said that it could be some sort of peripheral neuropathy. She said it could also be a neurological disease, or even maybe a muscular disorder. Either way, this is not good news. This could also explain why Gavin is appearing to be becoming more and more clumsy…for lack of a better word. He is constantly dropping things anymore and tripping over his own feet.
She is going to be conferring with her colleagues over the next few days and will contact us before this Friday and hopefully have some answers or a least a direction for us to go in. She said that, unfortunately, sometimes we can't isolate the problem and it will remain a mystery.
WTF, WTF, WTF…….Yup..That About Sums Things Up
WTF, is all I can say right now. WTF, WTF, WTF……. Honestly, what are the odds that this would actually happen.  We went up there for childhood disintegrative disorder and not only walked away with more questions then we had to start with but now we are looking at some type of neurological disease or neuromuscular disorder as well…..and we still don't know about the whole childhood disintegrative disorder thing either.  WTF, WTF, WTF…………..yup..that about sums it up.
It's times like this that I question if I have what it takes to do this. I'll be completely honest with you and please pardon my French. This absolutely scares the shit out of me. How are we supposed to help him? OMG….my head is going to explode……. This is going to be the longest week of my life. We have way to much going on right now already and this will likely be bumped to a top priority, followed closely by locating a school for Elliott and a school for Emmett….before August.
Thank you everyone for all the emails and support. I would ask that you please keep my family, especially Gavin in your prayers.