Bella has been the topic of many a blog post for the last 7 or 8 months.  However,  I don't want to leave out the matriarch of the Lost and Tired family. 
I have thousands of new readers and so I thought it might be a good time to reintroduce Ms. Maggie.
Ms. Maggie is our 4 year old English Staffordshire Bull Terrier. 

Emmett was just a few months old when we rescued her from the Greater Akron Humane Society.
We weren't really in the market for a dog but Lizze stumbled across her picture online and something just clicked. It was actually one of the more impulsive things we have done. 
We called and found out she was still available.  We dropped the kids off with my parents and made the drive to meet her on one evening in early December, 2008.
We weren't sure what to expect but we were somehow drawn to her.
If you have ever met an English Staffordshire Bull Terrier, you know that they are very, very intimidating dogs and Maggie was no different. 
However,  after spending some time with her, we quickly realized that she was so much different on the inside than she looked on the outside.
Our hearts broke after learning of her history and past abuse. 
As it were, she was seized when Police raided a dog fighting ring. She was apparently used not only as a fighting dog but also a breeder as she had a litter of puppies shortly after arriving at the shelter.
Maggie sat there for over a year because no one wanted her.  Everyone judged her by looking at the surface and so they missed all the gentle beauty within. 
While we were doing all the paperwork, I spent some more time with Maggie.  I noticed that she had cigarette burns in several places on her body. They were scars from her previous life.  I still don't know how someone could do that to such a beautiful dog or any animal for that matter.
Maggie immediately took to our family and we aren't an easy family to take to.
She is a gentle giant and she has essentially adopted the boys and looks at them as her own.  She helps Gavin when he's frustrated and lays with Elliott when he's scared.
She let's Emmett sit on her and even ride her like a horse. 
She is the most gentle animal I have ever had the honor of coming into contact with.  She has never shown any aggressiveness towards anyone in our family and Emmett is really, really rough with her sometimes. 
Having said that, I would not want to be the unfortunate person that attempts to break into our house or make any moves towards the boys. 
When Emmett was younger and our parents would come to pick up the kids for the day,  Maggie wouldn't let them leave the house with the boys.  It took awhile for her to learn that they would be bringing the kids back to her. 
Maggie has brought so much to our lives and we would do anything for her as we know she would do the same for us.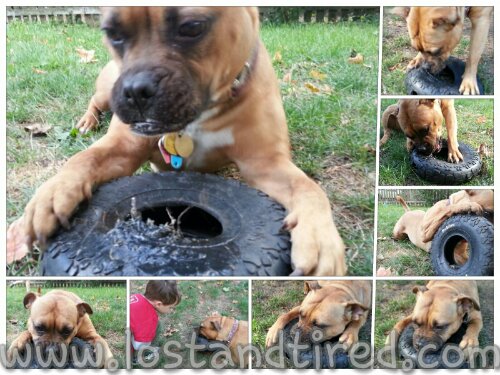 This was posted via WordPress for Android, courtesy of Samsung's Galaxy S III. Please forgive any typos. I do know how to spell but auto-correct hate me.
Please join our Autism Help Forums
Look for "Autism Help" app at the Google Play Store