My Dad called this morning and wanted to pick up Elliott and take him to Youngstown to visit relatives and help with a repair job.
This is a great chance for Elliott to get away and be a kid.
No sooner did I get off the phone with my Dad, when Lizze's Mom called and wants to keep Gavin's overnight again. 

Wow…
We're down two kids today. 
They are going to swing by and grab Gavin's meds for today and tomorrow.  If we think life is bad now,  if Gavin misses his meds….. 
This means that all we have today is the screaming Emmett,  who is probably going to scream more when he wakes up and finds Elliott gone.  🙁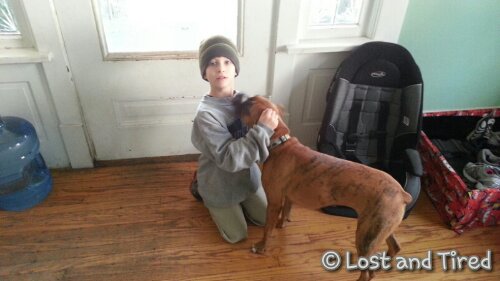 Elliott is saying goodbye to Bella in this picture. 
This was posted via WordPress for Android, courtesy of Samsung's Galaxy S III. Please forgive any typos. I do know how to spell but auto-correct hate me.
Please join our Autism Help Forums
Look for "Autism Help" app at the Google Play Store