I wanted to start a dialog about food allergies.  As many of you already know, Elliott has been diagnosed with a tree nut allergy,  more specifically to almonds.
We aren't new to food allergies but Emmett's previous food allergies were not this serious.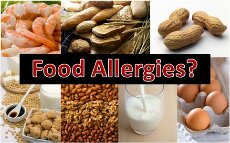 I wanted to share resources we have found and hopefully learn about some new ones that can help us and anyone else reading, to more safely navigate this new world of food hazards.
I found an app in the Google Play store called InRFood. The app itself has much promise but the bar code scanner is not working most of the time. 
Let's share app ideas, whether iPhone or Android. Feel free to also share experience and types of allergies as well.