It occurred to me today that life would be so much easier if people just understood. Think about it.  With all the struggles we face as special needs families, how many of those would be at least a little hit easier, if people just understood?
Forget the general public for a minute and imagine if your friends and family understood.
Imagine how much more supporting our friends and families could be if they just understood. The potential for simply preserving relationships that would have otherwise fallen victim to ignorance or intolerance, would be amazing in and of itself.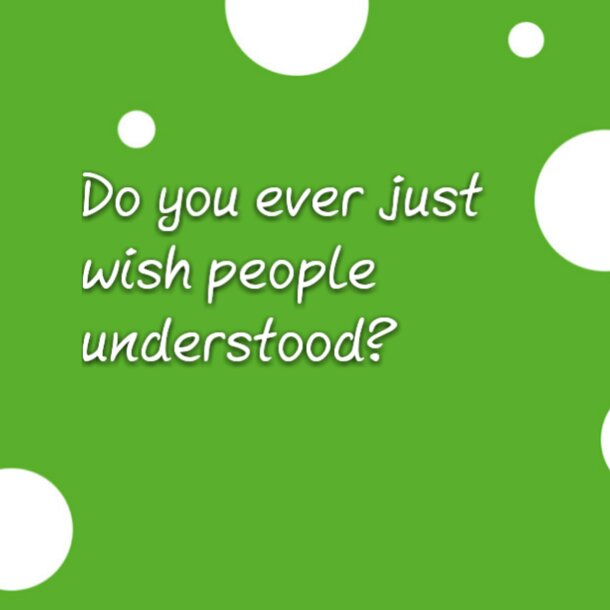 How much of your life would improve if people understood what you were going through? How about your child with special needs? How much would their lives improve if people were understanding instead of cruel and judgemental?
One of the things that I'm most grateful for, in regards to this site and my blogging career, is the connection I've made with people that understood what I was experiencing.
Most of these people are perfect strangers and yet the fact that we understand each others struggles has had such a profound impact on my life and theirs as well.
Imagine if you could find that same level of understanding in real life. When I say real life, my intent is not to diminish the relationships built within the online community. However, if we could achieve that same level of understanding with our own family and circle of friends, think of the possibilities. Think of how much better our relationships could be..
Understanding seems like such a simple thing but unfortunately, it's anything but simple…..
Anyway, that's what I was thinking about tonight.
I truly hope that my efforts have improved the lives of at least some of you out there. I know that I've helped the public to better understand because I hear from people all the time about they've applied what they've learned here, to someone in their life.
I guess they understand now…. 🙂
This site is managed almost exclusively from my Samsung Galaxy Note 3. Please forgive any typos as auto-correct HATES me. 😉
Follow @Lost_and_Tired

"Like" me on Facebook

Visit the My Autism Help Forums
To reach me via email, please Contact Me