By Leah Moore
When I won the coveted $25 dollar kindness award from Roxbury High School in1999, I had no idea how much it would prepare me for a life of managing the chaos. The birth of my daughter, Jordan, revealed she may never walk or talk due to a rare chromosomal disorder, Cri Du Chat. Four years later, my twin boys, Oliver and Austin, were born, and my husband Zachary and I were soon faced with a neurosurgeon for one and an oncologist for the other. Raising a child with a disability and twin tornadoes, my husband and I have a list of doctors longer than our number of friends. I learned most days to prioritize joy. Other days, I may lock myself in the bathroom.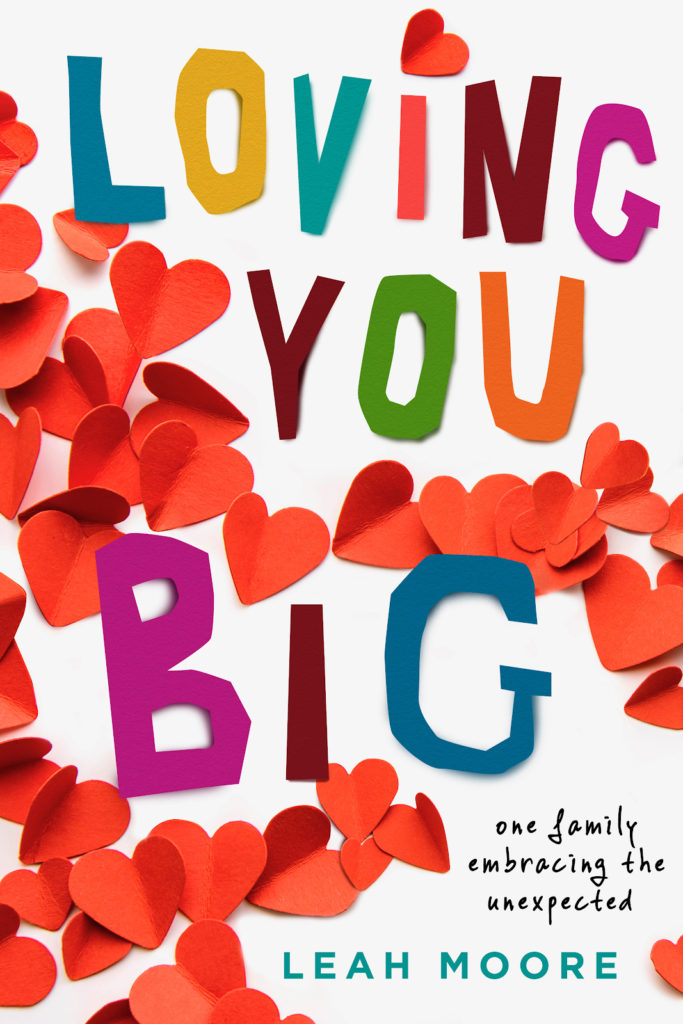 I felt very alone trying to figure out how to keep my children safe, happy, and healthy while remembering that I deserved the same. As an English teacher, I naturally seek stories for support, however, I couldn't find any. There were plenty of resources available, but I didn't want to learn more about how to get my children successfully in and out of stores, I wanted to know how it felt as the parent who was running ragged doing it. There were so many books to tell me about what to expect when I was pregnant, but what happened when the baby you bring home is not what you expected? Where were those books? This became the impetus for my blog www.lovingyoubig.com. What started as an outlet to make sense of my new normal turned into a journey into advocacy and fighting for change. I learned not only how to connect to others in over 40 countries, but also to put into words what sometimes others only think about in silence. The community I discovered was incredible; so many families in the same situation I am, navigating rare disorders and left with more questions than answers. But together, we can create a community. As a result, we created a documentary with our friend, filmmaker Emily Dombroff to spread awareness about rare diagnoses. We invite you to learn more here.

These experiences have inspired me to follow Toni Morrison's advice: "If there is a book you want to read, but it hasn't been written yet, then you must write it," and here we are.
My new book, Loving You Big, is a memoir-in-essays. The writing discusses the life of an ordinary family with extraordinary circumstances. The book's friendly format is easy to read and supports its purpose. Short, narrative vignettes focus on a theme, allowing readers to navigate through the pages and connect to a story that they may need at the moment. Each story in the collection can be read in two minutes or less, which is typically the amount of a parent's daily discretionary time.
Often hearing, "I don't know how you do it, "my family fills our days with humor, empathy, and a lot of baby wipes. We model how joy can be possible, even in the most extreme situations. Loving You Big is a catalyst. For conversation. For community. For change.
As if sitting down with a friend after a long day, this book invites you to commiserate about the adventures of parenting and reminds you that you are not alone. Sometimes, hearing the stories of someone else is the very thing you need to make sense of your own.
The following is an excerpt from the debut of the memoir. If you are interested in learning more about the upcoming release of the book, please sign up here:

Prologue: The Irony of Language
I loved words. I would use thousands of them a day. In fact, most of my family did — my poor father rarely got to speak more than five a night. How was school today, girls? I floated through my uneventful childhood and found every opportunity I could to practice them. On paper. With sign-language. In short stories. Then, I borrowed other people's words: Shakespeare. Frost. Bring on the words. I breathed words every day like oxygen. They were on the papers I graded, the books I read, the grocery list on my fridge. They were everywhere.
Except in the mouth of my child.
So, we find words in new places. They hide in smiles, dance moves, and signs. They sneak in with "Ma-ma" and "more." They come out with pointing and listening and just knowing. And each day, we wait and wonder. Would there be a new word? Did she understand ours? Then, the words form questions. Would she ask me where she left her shoes? Would she be able to say I love you?
And I don't know.
And for the woman who was shaped by words, who teaches them every single day, focusing on the power of vocabulary, the derivation of a term, the perfect synonym — as it turns out, maybe you don't need them at all.
I've found something much more powerful. Something that encapsulates pride and fear, strength and temerity, sadness and joy, love and comfort. Being a mother and knowing how to speak to your child who cannot speak.
And when they create the word for that, let me know.