We all want our homes to be nice. They're our pride and joy. At the end of the day, this is the biggest purchase or biggest expense that you're likely to have in your life. You're going to want to maintain its value by keeping it in good condition. Then, you should bear in mind that this is a space that you and your family are going to spend a whole lot of time in, so you should want it to be nice to create a happy and healthy living atmosphere. A clean and tidy house can boost happiness, increase comfort and reduce chances of experiencing illness or injury as a result of dirt or clutter and trip hazards. There are a few things you can do to achieve the perfect house for your family, but two of the most important are decluttering and deep cleaning!
Declutter
Decluttering your house can be a time consuming task, but all in all, it's more than worth the effort. Over the years, every family home builds up junk and mess. It's inevitable. But that doesn't mean that all of these unnecessary belongings need to stay in your home. Start out by sorting through you and your little ones' belongings. Question whether each item in your home is used or whether it has sentimental value. If the answer is neither, it's time to get rid of it. Of course, you should try to be environmentally friendly where possible. If the item is of value, sell it on. If it's less valuable but still might have some use, donate it to a charity store. If it's broken, see if it can be recycled.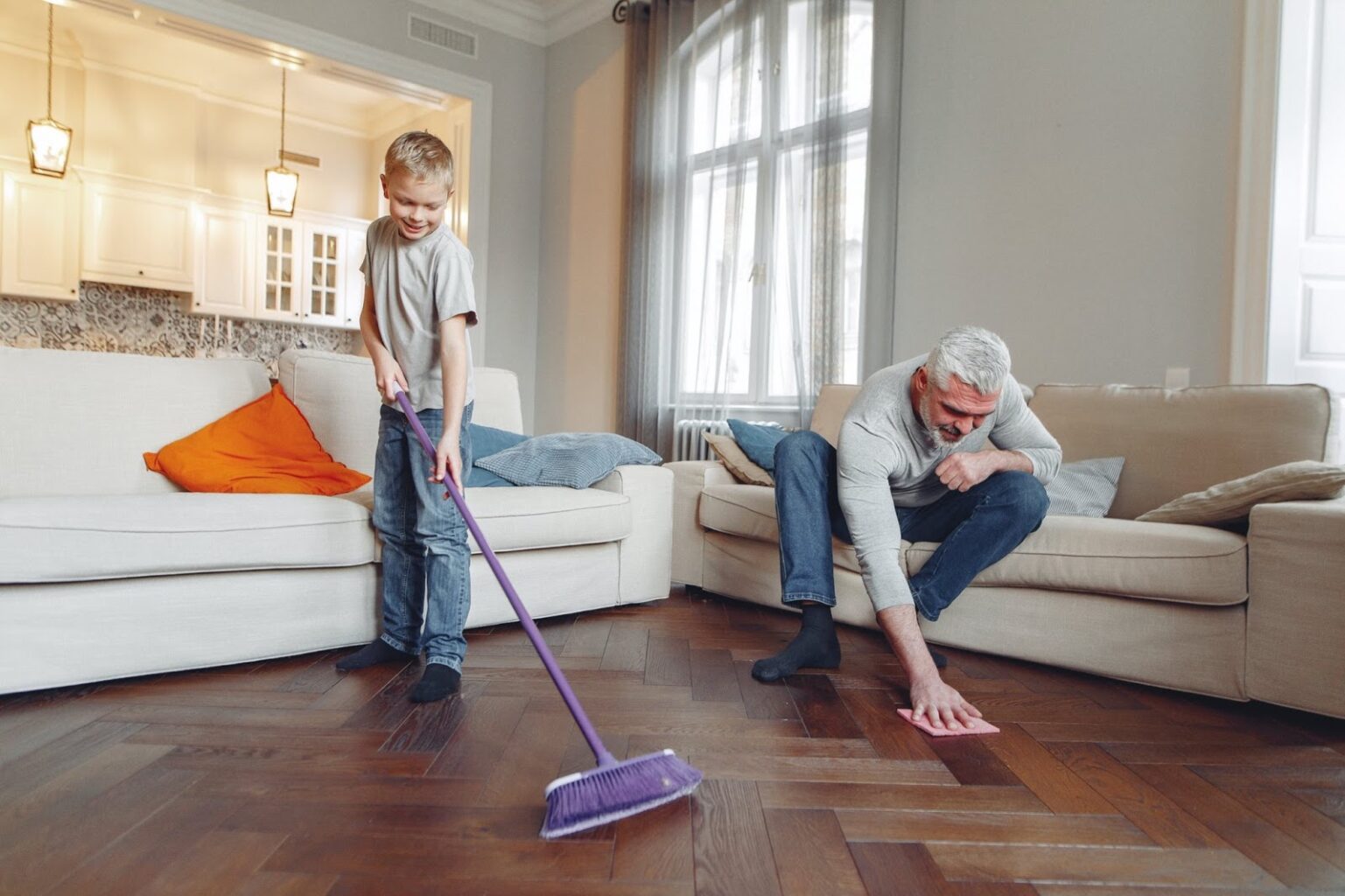 Deep Clean
Once you're living space is clear of mess, you can start to focus on really deep cleaning it. Now, the majority of us undertake regular cleaning tasks as part of our day to day routines. We will wash the dishes. We'll do laundry. We'll vacuum or sweep and mop the floors. We'll wipe down kitchen surfaces. The list goes on. These tasks help us to keep on top of our cleaning. However, every so often, you should conduct a deep clean too. This tackles areas that we might neglect over the months and where dirt can slowly and unexpectedly build up. At the end of the day, anything in your home can be cleaned – there are products out there from a work surface cleaner to iphone cleaner. Here are some deep cleaning tasks you might like to consider!
Cleaning Carpets
When you have kids, your carpets are likely to get pretty dirty. Whether that's due to kids leaving shoes on and walking mud or dirt through your house, spilling food or drink or anything else. Dirt can rapidly build up, causing discolouration in your carpets. Now, a regular vacuum cleaner will pick up debris from the surface of your carpet, such as non-ground dirt, hair that has shed, pet fur and more. However, to remove dirt that lies deeper, you're going to need to use a professional carpet cleaner. These devices can be hired in most areas and will lift dirt from deep within your carpet pile. You'll need to let the carpet dry, but once you can walk on it again, you'll really notice the difference. Alternatively, you can pay a professional to take care of the work and clean your carpets for you!
Cleaning Windows
While cleaning windows is an essential task in any household, relatively few people actually carry this out on a regular basis. When it comes down to it, a dirty window can negatively impact the appearance of a whole room. It can block light and just look messy. So, why not get to window cleaning? Take your time over this task rather than rushing and you should end up with clean, shiny, streak free windows that look great! For the outside of your windows, it's generally recommended that you hire a professional window cleaner. They'll have the tools and safety expertise to clean your windows properly without causing damage or hurting themselves. When it comes to the insides of your windows, you can generally take care of these yourself. You'll require:
window cleaning solution (where possible, try to find an eco-friendly option)
a window cleaning cloth or rag
a window cleaning squeegee
Then, simply spray the window and wipe it down thoroughly. It's that simple!
Encourage Your Kids to Keep Things Clean
Of course, once your home is spotless, this, sadly, isn't the end of the journey. You and everyone else in your household are going to have to make the conscious effort to keep everything clean and tidy going forward. This is easy for adults living on their own. But when you bring kids into the equation, things get a little more difficult. You're going to have to encourage your kids to adopt clean and tidy habits that will help to keep your house in perfect shape.
Of course, there are a number of other things you can do to help get your home into ship shape. But hopefully, some of the advice above will help to get the ball rolling in the right direction!
This is a contributed post and therefore may not reflect the views and opinions of this blog or its author.