It's been a great day. I took the boys to school this morning on time and everything. Yes, there's a story behind that but it's for another time.
After I dropped them off, on time mind you, I spent the morning/afternoon hiking Deer Lick Trail. It's either park of the Cleveland Metroparks or Cuyahoga Valley National Park System. I thought it was CVNP but the signs made it seem like it was Cleveland Metroparks. It doesn't really matter I guess, it was just a bit confusing.
It's four miles long and classified as moderate/hard. It was definitely more challenging but we knocked it out in under two hours. I guess the average completion time is two and a half to three hours. If feel pretty good about our time.
It was absolutely amazing and I so totally needed this today. There's something about being in the woods that is calming and provides a sense of peace. Spending time in nature is such an important part of maintaining my mental health. Hiking is one of my favorite things in the world to do and I'm so glad I had the opportunity to experience this today.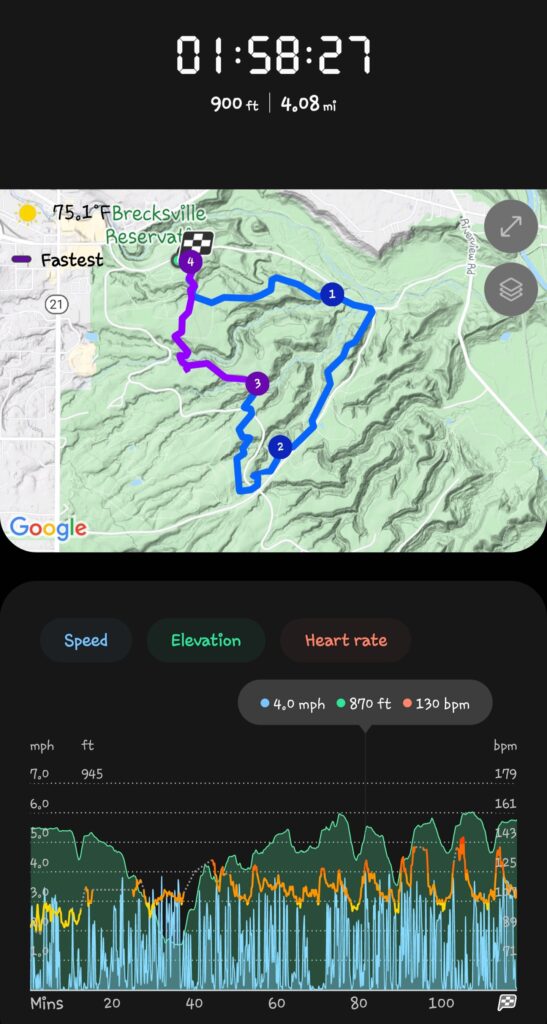 I've always enjoyed hiking but it's become such an important part of my life anymore and I'm looking forward to going new places and seeing new things.
I walked away from today's adventures feeling really good. I want to keep building up to more challenging trails and have more experiences that I'll be able to remember the rest of my life.
This place was so beautiful, I felt like it didn't belong in Ohio, but I'm grateful it's here and accessible. I might take Elliott at some point because I think he would do okay. This would probably not be a good idea for the other two, at least not right now.
I made it back in time to pick up the kids from school, again, on time. ☺
At the moment, I'm just unwinding, and getting some office work done. I want to share this because I hope it serves as a reminder of the importance of practicing selfcare whenever it's possible. I'm so grateful for the experience and memories made today. I'm absolutely in better place, recharged, and ready to take on life.
I know it's difficult to find the time and energy to take care of yourself, but it's so important that you make yourself a priority. For me it's working out and hiking right now. It can literally be anything that puts back into your physical and emotional bank accounts. Find something that's healthy, and keeps you centered.
I'd love to know what you guys do for selfcare. Please leave your thoughts in the comments below. Maybe I can try some of your ideas. ☺