My guest today is Heather Brandt, Ph.D. Heather is the Director, HPV Cancer Prevention Program, Co-associate Director for Outreach, St. Jude Comprehensive Cancer Center, Member, Department of Epidemiology and Cancer Control – St. Jude Children's Research Hospital
Vaccines are a hot topic once again because of COVID. There is so much misinformation floating around about vaccines and Heather is the perfect guest to answer the tough questions surrounding the safety and efficacy of vaccines. We also talk about the importance of the HPV vaccine and how it protects our kids from numerous different HPV related cancers in the future. This is so important, so please pay attention, and share this with your family and friends.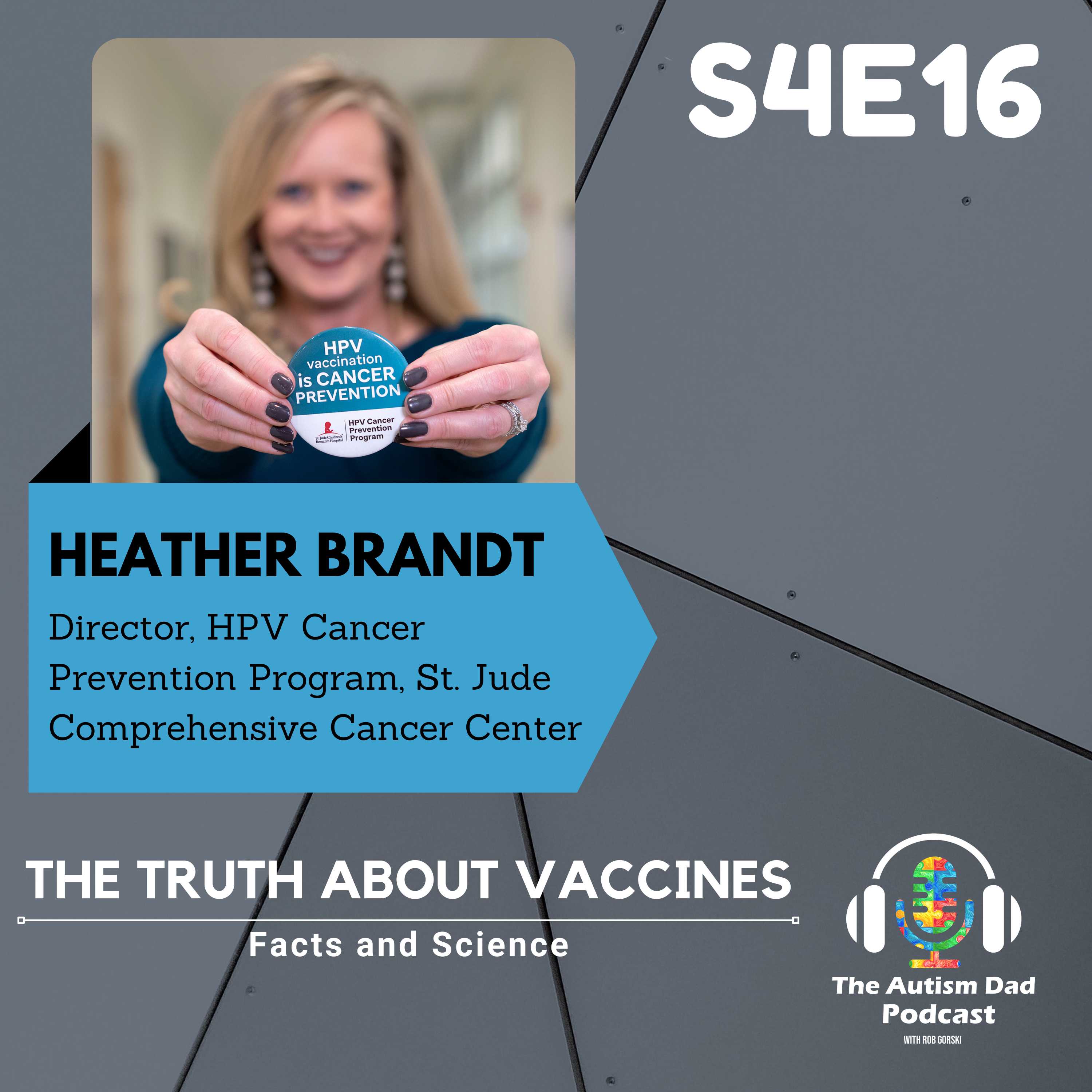 Vaccine related information and resources:
The CDC vaccination information for parents is excellent.
https://www.cdc.gov/vaccines/parents/index.html
If someone wants other resources:
And, last but not least, St. Jude Children's Research Hospital has accurate information on the safety and efficacy of vaccines. Right now, we have an excellent resource – Vaccines Bring Us Closer – that offers accurate information about vaccines, specifically COVID-19 vaccines. https://www.stjude.org/media-resources/special-announcements/get-vaccinated.html
Here is how to contact Heather Brandt, Ph.D, or the HPV program:
Web: stjude.org/hpv
Email: PreventHPV@stjude.org
LinkedIn – Heather Brandt
Twitter @BlondeScientist
All my information and relevant links are here
Support this podcast: venmo.com/theautismdad
Sponsors
This episode is sponsored by Mightier. Mightier is an amazing program out of Harvard Medical and Boston Children's. It uses video games to teach kids to emotionally self-regulate. Visit theautismdad.com/mightier and find out more information, including how to get a free 30-day trial.
This episode is also brought to you by Hero Health. HERO is a smart automatic pill dispenser that dramatically improves medication management and compliance. Learn more at theautismdad.com/hero and use code "theautismdad50" to save $50.