I wanted to share something with all of you, and while I won't go into the nitty gritty details, I do feel the message is important. Anyone who has read this blog over the last 12 years, knows that my life has been a roller coaster of ups and downs. Raising kids with extra needs isn't easy and often requires a great deal of time, energy, patience, money, and sacrifice. It's absolutely worth it and I'm not complaining.
I'm aware of the struggle and I've experienced some very, very dark days. There were so many times along the way that I felt completely isolated and alone. I felt like no one understood and it took all I had in me, to keep getting back up after stumbling along the way.
There were times I honestly didn't think I was going to make it. I thought the stress would prove to be too much. I worried that I wasn't strong enough to be what my kids needed me to be.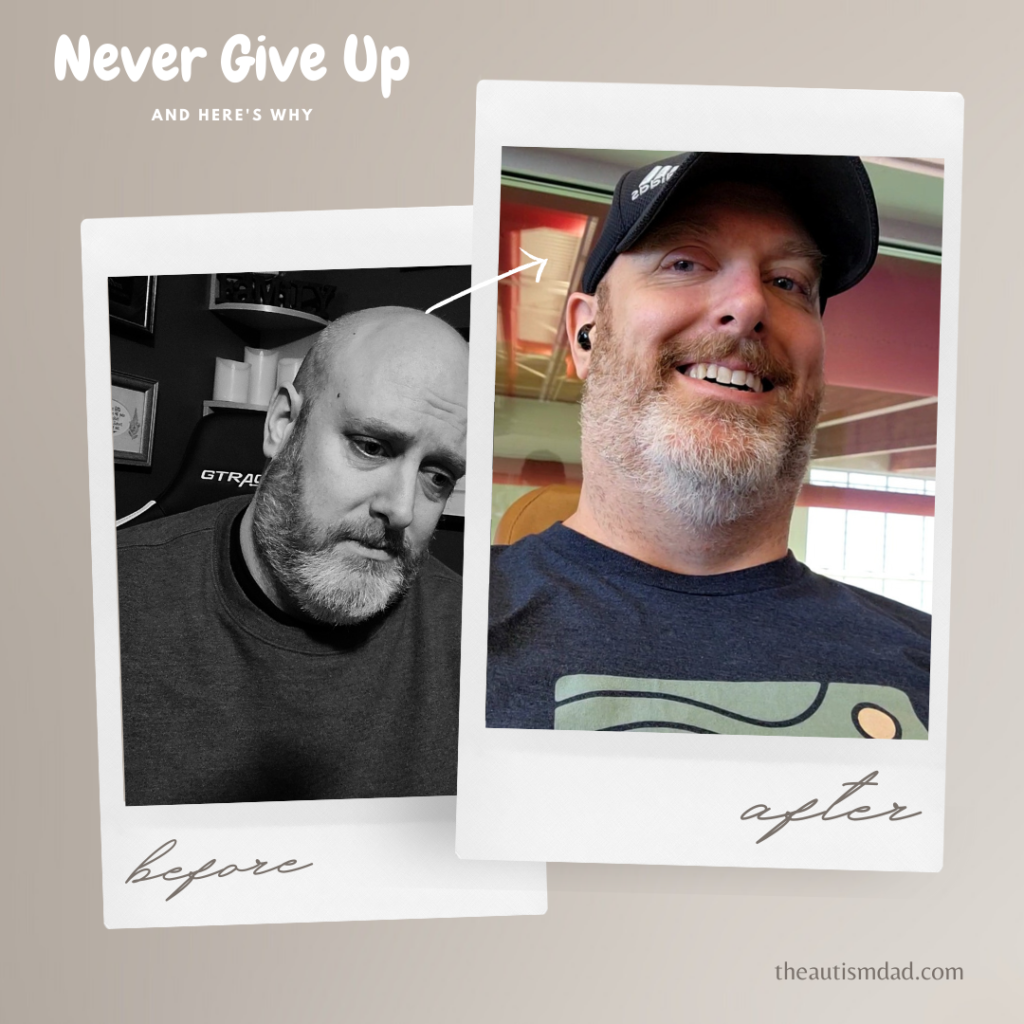 Trying to balance work, raising a special needs family, my marriage at the time, as well as, maintaining relationships with friends and family, was so overwhelming. I'm not ashamed to admit that depression took over, I gained a ton of weight, and I spent many nights in tears trying to find the strength to keep going. There never seemed to be an end in sight and I was waking up each morning, counting down the days I had left on this Earth. I wasn't living, I was surviving, and barely surviving at that. I felt worthless and hopeless.
I lost my grandparents very close together and I went through a divorce shortly after. I honestly thought that was going to break me. Sometimes, I didn't think I was going make it. I was now a single parent, doing everything alone, desperately trying to hold myself together, and constantly feeling like I was failing my kids. Don't even get me started on COVID.
I'm sharing this for one reason and one reason alone.
I understand the struggle that so many of you are facing each and every day. It's easy to be sucked into the abyss of darkness that surrounds times like this. The message I'm sending is one of hope.
Not even in my wildest dreams, would I have believed my life would turn out the way it has. If you had told me this time last year, at the height of COVID, and almost a year into our complete lockdown, that things would get better, I wouldn't have believed you. That's just the sad, but simple truth.
Having said that, I'm here to tell you that it does get better. I went from trying to find the strength to get out of bed each morning, and fake being okay, to waking up each morning, thankful to be alive.
Life is a journey and sometimes that journey can take us through some pretty dark places. Sometimes the only light at the end of the tunnel is a speeding freight train, hellbent on smashing into all the progress you've made, and sending you spiraling back down into that dark place. I feel like I've been hit by that train many times along the way but as close as I may have come to giving up, I never did.
Between therapy, selfcare, personal growth, close family and friends, I managed to find the day where that the light at the end of the tunnel was actually the light I'd been seeking for so long.
I'm telling you, if I'd given up, I wouldn't know how truly amazing life can actually be. I wouldn't have been able to help my kids find their paths forward through the darkness. If I'd given up, I wouldn't have been able to become a professional podcaster, or continued to move forward with this blog. I wouldn't have rediscovered my love for nature and being in the woods. If I'd given up, I probably wouldn't have lost ninety pounds and restored my health.
If I hadn't managed to find the strength to get back up, one last time, I wouldn't have met the person who's completely changed my life. I wouldn't be making longterm plans or know what it's like to be completely loved and accepted for the flawed human I am.
If I'd given up, I wouldn't know what it's like to wake up in the morning, grateful for my life, and excited about living it. Had I quit, I wouldn't know what it's like to truly love and be loved in return.
Don't get me wrong, I'm absolutely living my best life, but that doesn't mean it's perfect. Nothing is perfect and if that's what you're waiting for, I wouldn't hold my breath. Life isn't about perfection, it's about finding what really matters, holding on to it, making all the memories, and never taking anyone or anything for granted.
There are still hills I need to climb but I'm not climbing them alone. I still have a work related challenges but I've made crazy amounts of progress, and not only am I a professional blogger but now a professional podcaster as well. I can't get over how much my life has changed in the last last two years, and especially over the last six months. If I had given up, I wouldn't be where I am today, and I can't imagine being anywhere else.
Please don't ever give up. Pick yourself back up one more time and keep moving forward. You never know what's just around the corner. I know it's not easy but I promise you, it's worth it in the end. Remember, it's okay to ask for help. I never would have made it this far without the help and support of those closest to me.
You're not alone and you totally got this.