One of the things I thought I would never get used to after my divorce was splitting up things like birthdays and holidays between households. Family is so important to me, and not having my kids home on days like these was hard. I didn't think I would ever be okay with it. Even though everyone would tell me that it gets better, I didn't see that being possible.
Fast forward a few years, and while it took a little bit of time, it's become my new normal. To be completely honest, since my kids live with me full-time, I need the break, and it makes me happy that they get to spend time with their mom. It's a win-win. I'm grateful to be where I am today, but it was definitely a process, and sometimes it was messy.
I've talked to many parents over the years (primarily special needs parents) who were struggling with this same thing. Unfortunately, the divorce rate tends to be pretty high in the special needs community. I knew that I wasn't the only single parent going through this but hearing from people in similar situations was comforting.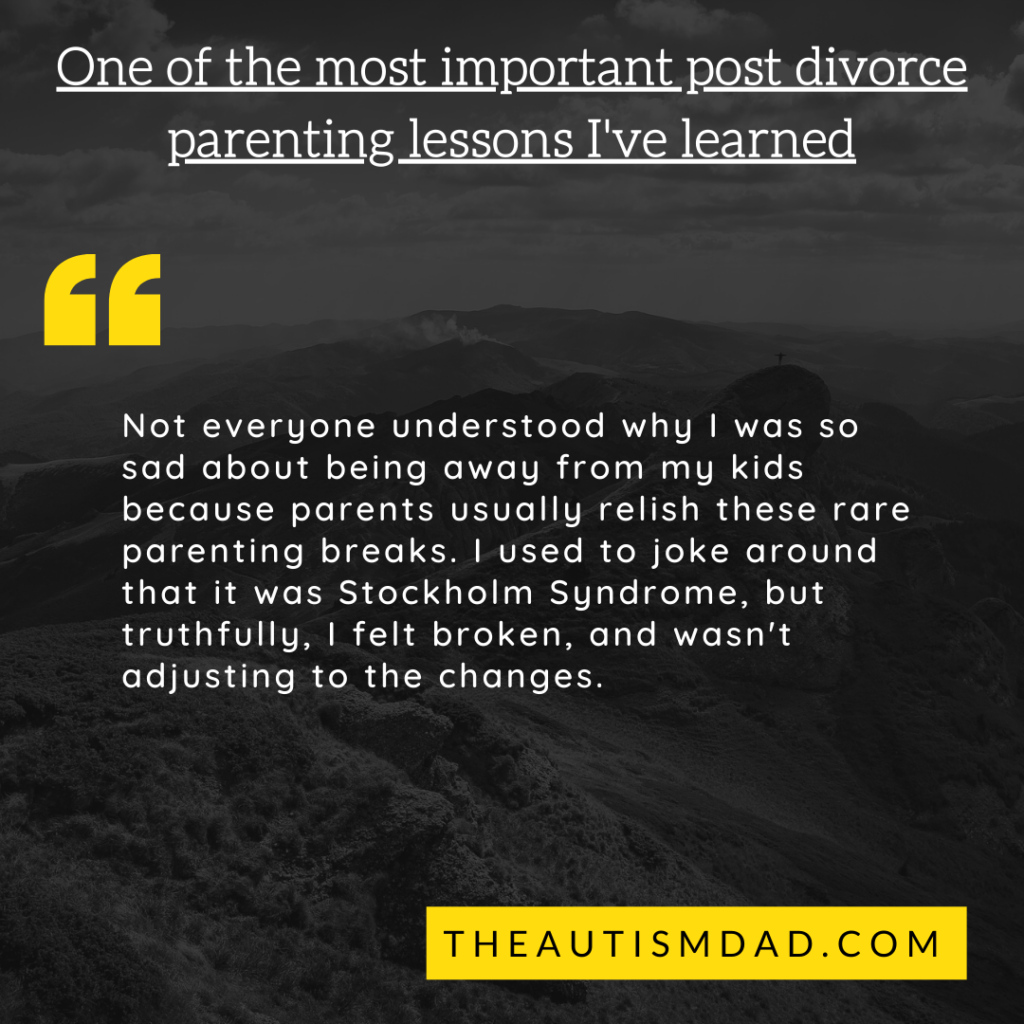 I figured it might help to talk about what it was like for me as things got better. It was a very emotional journey, but I'm in a good place now, and my kids have adjusted well.
It's funny cause I was thinking about this yesterday. My kids asked me what I would do while they were at their mom's. I explained what my plans were, and while they were a little jealous, they also knew they'd be having a great time as well. We somehow got on the topic of what I used to do when they were gone. That conversation is what prompted this post.
When the kids first started going for visits in general, it was tough for me to be away from them. I was happy for them cause they spent time with their mom, but I was also sad because they weren't here. When they would leave, I would spend my time trying to distract myself, and my favorite pastime back then was hiding inside multi-player sessions of Call of Duty (COD) and eating Chipotle. They'd usually be gone for a couple of days at a time. I got real good at Call of Duty and racked up tons of rewards with Chipotle, but honestly, it wasn't the best way to cope.
I love COD, and I'm always down for a good burrito, but it wasn't healthy. It got me through the moment, but that was it. As many of you have shared with me, it was heartbreaking being without my kids. Yes, they were challenging, overwhelming, and drove me crazy, especially during this period of time, but I missed them. Getting time to myself should have been a good thing, but I was miserable. Not everyone understood why I was so sad about being away from my kids because parents usually relish these rare parenting breaks. I used to joke around that it was Stockholm Syndrome, but truthfully, I felt broken, and wasn't adjusting to the changes.