Welcome To The Official Home of The Autism Dad
I'm Rob Gorski and welcome to The Autism Dad blog, where I openly share my journey as a single father raising three incredible autistic children. I strive for honesty and transparency, offering a candid look into the challenges and triumphs my family experiences.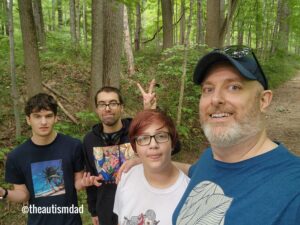 This blog started in 2010, initially as what I thought would be a private post. To my surprise, it resonated with people across the globe, providing comfort and insight into the human experience. While I'm far from flawless, I embrace my mistakes as learning opportunities and remain committed to persevering.
I hope my readers can glean insights from my experiences and maybe even sidestep some of the pitfalls I've encountered.
Life hasn't been easy for my family, but we're resilient—navigating challenges with love and unity. My aim is to spread a message of hope, understanding, education, and persistence.
Here's A Few Places To Get Started
My Podcasts:
The Autism Dad Podcast
The Autism Dad Ohio Podcast