About the author:
My name is Rob Gorski and I thought this would be a great chance to introduce you to The Autism Dad Blog (born August 1, 2015). I figured I would start things off by telling you a little bit about myself and my experience within the special needs community.
As I said prior, my name is Rob Gorski and I'm really excited to meet you. I'm a 37-year-old Autism advocate, writer, hardcore techie, Google android fanatic, creator of the My Autism Help Forums. However, more importantly, I'm a Dad to 3 amazing boys and husband to my best friend. All 3 of my boys are on the Autism Spectrum and have other serious health issues. Gavin is 16, Elliott is 10 and Emmett is 7.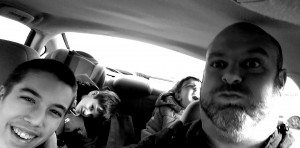 Things can be very difficult and every day seems to be more challenging than the last, however, I always somehow manage to survive and keep myself and my moving forward.
About 8 years ago, I discovered that I enjoy writing and was actually really good at it. I soon realized that writing was a great outlet for me. I think it was so beneficial because I was able to really vent my frustrations and walk away feeling a little less burdened by the stress in my life.
Essentially, it made me a better father and all around person.
My new found passion for writing led me to found the multiple award-winning Lost and Tired blog. I created Lost and Tired as a means of sharing my story and reaching out to others within the special needs community, particularly those families touched by Autism.
Over time, I began to realize that Lost and Tired had run its course and it was to semi-retire it and start over. By semi-retire, I mean the site will remain live, as a reference for the community but I will no longer be publishing under that name.

Starting over is never easy but I feel that in doing so, I can put the past behind me and continue to help the Autism and Special Needs communities in a positive way.
My goal with The Autism Dad blog is to educate people and help them better understand what life can be like for families with a special needs child (or in my case, three children). I share this story from the perspective of a Dad, in a very honest and transparent way, even if it doesn't paint me in a good light.
If you feel like you know me after reading what I've shared, it's because you really do get to know the real me. I'm imperfect, flawed and an expert mistake maker. I'm one person, one human being, trying to do a job that sometimes requires superhuman abilities. I'm as far from perfect as someone can be but I never give up, I'm tenacious and I will move mountains for my loved ones, especially my children.
I want to dispel the misconceptions surrounding Autism and show how my life and the lives of my children are affected by it each and every day. Believe it or not, it's not always bad. In fact, it can actually be pretty damn amazing at times.
Since I began writing about 8-plus years ago, I have been interviewed countless times, both in print and on the radio. I have also been published by CNN as well as countless other blogs and websites from around the globe. Lost and Tired has grown tremendously since its inception, garnering over 70,000,000 hits on Lost and Tired. That's pretty amazing for a personal blog in a niche category.
My readers are the very best in the world and exist in almost every single country in the world, literally. I'm not bragging. I just think that's so cool. 🙂
My personal philosophy is that only when people can understand and relate, will they become truly Autism Aware. I believe that as Autism and Special Needs Parents, sharing our stories is the best way to educate the public as well as other people within the Autism and Special Needs community.
I have also created a dedicated support forum called, My Autism Help. My Autism Help is a support forum for anyone touched by Autism or any other Special Needs type condition. We are a group of parents that have been there. It's a safe, judgment-free place to seek advice, vent your frustrations and share your victories. My Autism Help is accessible directly from my blog or via the FREE My Autism Help app for android devices and located on the Google Play Store.
I love my family more than anything in the world but I'm still human and can feel overwhelmed, frustrated, defeated and angry. I think The Autism Dad summarizes who I am.
I encourage others to share their story with the world, in order to help break the silence and spread Autism Awareness.
Please feel free to contact me if I can be of any assistance.
I really look forward to getting to know all of you. Please take a second and introduce yourself and share a bit about what your experience below.
Until next time.