I have reached a point where I feel it may be time to re-evaluate a lot of things. Raising 3 special needs kids and trying to care for my wife is like 4 full time jobs. It literally requires every ounce of everything I have. If I had an unlimited supply of "everything" then it wouldn't be a problem. You may have guessed that I don't and so it is….a problem. I'm stretched WAY to thin and it's like I can feel the fibers that make me who I am beginning to snap under the constant, ever increasing tension. I need to re-evaluated my priorities.
When you have to quit your job to stay at home and take care of your family there are sacrifices you have to make. You re-evaluated your spending for example. We got rid of all the "non-essentials" we could, cable, land line phone and dining out (just as a few examples). I feel that I have arrived at a point where I need to re-evaluate the way I spend what little time and energy I have. Right now I devote the vast majority of my time to my kids. Second place goes to my wife and that's ONLY because the kids come first….period. Third place goes to trying to etch out an existence for my family, figuring out ways to provide for my family, this blog and my Android development.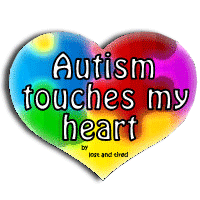 It already seems like my priorities are in the right place. The only thing I could cut back on is the Android development I guess but that is a HUGE platform to spread Autism Awareness and that IS a priority for that reason alone. This blog is one of the few things that makes me feel like I'm actually accomplishing something. When I share my story I feel (whether the effect is real or imagined) like I'm making people more aware of what Autism can be like in "real life" and by making people aware I'm helping to make the world a better more understanding place for my kids. It's also a place for me to put my thoughts and feelings out there and be able to walk away feeling a little lighter….if that makes sense. So where do I make the cuts?
I have SO many ideas for this blog. I have ideas to reach more people and ideas to better help the ones I've already reached. I have ideas for spreading even more Autism Awareness with my midNIGHT ROM and Android development. I just can't find the time or energy anymore. Writing anything meaningful is just so exhausting for me right now. One of the reasons I started blogging in the first place was to give my family and friends (the ones we had left) an unedited view into our daily struggle. I was hoping that if they saw what we were going through or how much our kids (their nephews and grandkids) were struggling they would be more supportive. I thought maybe they would understand why we can't do the things they all do. I wanted them to FINALLY "get" the fact that we DID NOT isolate ourselves by choice. The sad truth is that most of my family NEVER takes the time to read anything I write. They invest NONE of their time in any of us. I find myself asking what's the point. Am I actually making anyone more aware and understanding? Will the world be a better place for my kids because of anything I'm doing? The answer is, I don't know…….
I have been really thinking lately that I just can't keep this up. Something has to give and that something CAN'T and WON'T be anything related to my kids and their needs. I've set myself up to fail with unattainable expectations for myself. I see everyone around me, especially in the Autism community and it seems like they do SO much more then I do. That really bothers me because I feel like I should be doing more in order to ensure my kids have an understanding and more compassionate world to grow up in. I feel like I'm "short changing" my kids by not do better.  I have given this a lot of thought. I think my problem (if it's even a problem) is that I'm simply to busy with the minute to minute responsibilities of being a father to 3 special needs kids while at the same time "trying" to take care of my wife to do anymore then what I'm already doing. Perhaps I should cut myself a little slack and take stock of what I have managed to accomplish in the face of so much adversity. I just don't know anymore. I've been doing this for so long and I'm tired. I thought that figuring this out would make me somehow feel better. However, coming to this realization still doesn't help me with the re-evaluation of my priorities but it does take some of the pressure off….for now.
-lost and tired