Today was supposed to be a relatively relaxing day. Emmett and Gavin have therapy this morning, well Emmett already had therapy this morning.
Anyway, Gavin slept in as he is prone to do lately. When he woke up he seemed fine. However, from where I was sitting I only saw the right side of his face.
Gavin started getting anxious and I wasn't sure why. I asked him if he was OK and he turned to look at me and this is what I saw. What the heck is this?

When he came home from grandmas yesterday he had one little red bump on his jaw
It just looked like a mosquito bite. However, clearly something has changed as this is definitely a problem much bigger then a simple mosquito bite.
He goes into the doctors this afternoon. Gavin is freaking out about his face and neck, which is understandable. However, the more anxious he gets the more he scratches at it.
One thing I have learned as a special needs parent is to always expect the unexpected.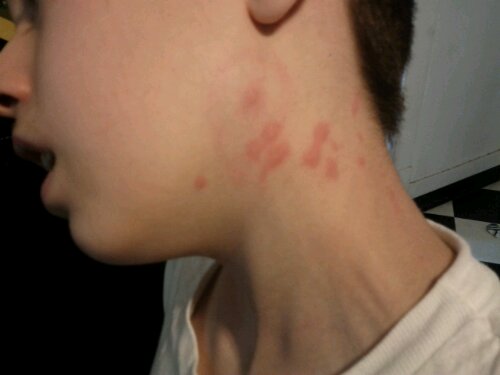 – Lost and Tired

Post by WordPress for Android via Nexus S 4G without the use of proper editing tools and disadvantages of a bastardized version of auto-correct.
Please Vote for Lost and Tired (just click the link) and help me spread Autism Awareness. Everyone can Vote once a day 🙂