Emmett loves to help out whenever he can.  I really like to encourage this whenever possible, even when it creates more work for me…….or Cleo in this case.
This is the best way I have found to help foster independence in my kids.
Allowing them to help,  especially when they really want to,  gives them hands on experience and a sense of pride and accomplishment.

The other thing that allowing my kids to help out has done is provide an avenue for connection building.  Many times my kids can get sorta lost in their own little world.  By working with them like this,  I have found that it helps to build a stronger connection and that's very important to me.
What sort of things do your kids like to help out with?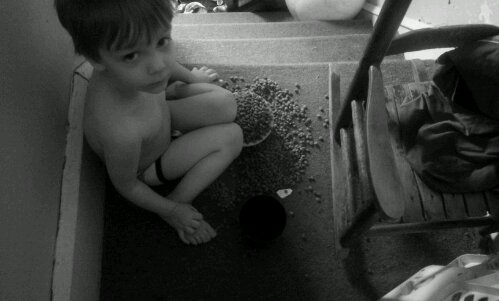 – Lost and Tired

Posted by WordPress for Android via Samsungs Epic Touch 4G (provided to me at no charge by Sprint) without the use of proper editing tools and disadvantages of a bastardized version of auto-correct. So please forgive the spelling 😉
Please Vote for Lost and Tired (just click the link) and help me spread Autism Awareness. Everyone can Vote once a day 🙂