I want to preface this post with a few things. I'm not attempting to force anyone to see things my way. I realize, that we will never all be on the same page. However, what I hope to do is point out a problem within the Autism community that contributes to the rift that has occurred between parents of kids in different places on the spectrum.  I think that we need to be able to show a basic level of respect for each other. Everyone's experience with Autism is different. It's important to realize that one person's experience with Autism does not mirror another person's by default.
Update: This whole thing has gotten out of control. I never said anyone was "dishonest" as I have been quoted as saying. When I say Autism and Aspergers aren't in the same universe, I'm referring to parenting and challenges and I'm doing so in the general sense. I realize that this is not always the case, but I was simply trying to make a point. This was never meant to be taken as a blanket statement and certainly not in a diagnostic way. Something that people seem to be missing is that I'm speaking to my experience. I'm very aware that everyone's experience can be different.  I also know how challenging Aspergers can be. I want to make very clear that I was never trying to create division as has been suggested and I'm certainly not complaining about my family. 
What I find most disturbing is that some people are so quick to dismiss my experience simply because they haven't been on the receiving end of judgement like this. It's important to be aware that simply because you haven't experienced something doesn't mean it doesn't happen to others. Many of you have shared your stories either via email or in the form of a comment. I know that I'm not alone in what my family deals with. Sometimes all the positive attitude in the world can't overcome the overwhelming challenges some of us face. Having people criticize us for feeling the way we do just makes things all that more difficult. I know that my attitude no matter how positive or negative it may be, will never change the reality I find myself in. I'm not a negative person, I never give up and I keep my family afloat. Saying anything to the contrary, shows that you don't really know me or our story. 

I'm glad that some people seem to have never experienced the criticism that I and many others have faced. No one should ever have to deal with that. However, having my experience discounted simply because someone hasn't had that happen to them, is not right. I really am saddened with how this has all gone down, but it doesn't change anything. No one has to agree with me. 
I can't please everyone and this just happens to be the first time something like this has happened to me. I'm prepared to move past this and I hope others can as well. 
This is my story and my family's truth based solely on things that have happened directly to us. I will not apologize for what I wrote, however, I'm sorry that it was taken the way it was. I never intended for it to be picked apart and scrutinized. I'm sorry anyone took offense to this. That was never my goal. 
========================================================
I have been thinking about something lately. I know…hard to believe…right? Seriously though, I want to speak my mind for a few minutes. You will either love me or hate me after this but I really think this needs to be said.
I have noticed a lot of criticism lately aimed at parent's that tend to not see the positive side of Autism. I really am dumbfounded by the lack of compassion individuals in the Autism community can have for one another. I realize that my blog is sorta unique in the sense that I don't try to paint a positive image where there isn't one and I'm not afraid to address thereality of how Autism has affected my family.
Many of the Autism related blogs out there are really upbeat and positive…and that's cool, if that's their experience. I just wonder why people are so afraid to be more honest about their experience, especially when that experience is more negative?  I say this all the time but I'll say it again. It's so vitally important that we share our stories, both good and bad. The only way people (including those within the Autism community) are going to ever recognize and acknowledge that there is a difference between raising a child with Aspergers and raising a child with lower functioning Autism,  is if they know it's there.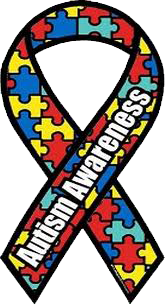 If we don't speak up, no one will ever hear our voice and the world will go on seeing only one part of what Autism is.
I think it's important for people to be as transparent as possible when it comes to something as misunderstood as Autism. I say misunderstood because the general public, heck, the special needs parents within the Autism community itself, seem to lack the understanding of just how profoundly dynamic Autism can and will be.
I know I sound like a scratched record, but Autism and Aspergers aren't even in the same universe and I can comfortable say this having children in both places on the spectrum. What happens all to often, is that Aspergers becomes the public face of the Autism spectrum and it's only voice. This is a huge problem, especially for families like mine. As a parent to 2 boys with Aspergers and 1 with Autism, I feel very comfortable saying that.
I hear, so often from people with an Aspergers child, "why are you so negative", "Autism is a blessing", "my child is mainstreamed and doing great" or "you just need to be more positive."..
I swear to God, if I hear that one more time my head will explode. This is exactly why Autism and Aspergers should be considered different disorders. I know I won't make a lot of new friends by saying that but I really don't care. While Autism and Aspergers share some of the same traits, raising a child with Autism and raising a child with Aspergers isn't even in the same league. Now, before you flood me with hate mail, remember, I have a child with Autism as well as 2 boys with Aspergers, so I understand the difference.
Now, PLEASE hear me when I say this, I'm NOT saying that raising a child with Aspergers is easy, because it isn't. I'm completely aware of this fact.
While raising a child with Aspergers is not easy, it is however, very different than raising a child with Autism.
Raising a child with Autism is very often infinitely more challenging. I understand why Aspergers was added to the Autism spectrum. I also understand why it's going to be removed in the next edition of the DSM.
Honestly, I don't personally care, one way or the other as I have much bigger things to worry about. However, and this is a big however, that doesn't mean I don't recognize this as a problem. I see and hear almost everyday what the general public and the Autism community itself, thinks Autism is. I find it disturbing that people within the Autism community don't realize there is more to Autism than Aspergers.
I'm going to say something, with no intentions of offending anyone and with the up most respect.
If you think that raising a child with Aspergers is the same as raising a child with Autism, you have no idea what you're talking about. It's so unfair to judge a parent struggling with Autism, for not being more positive. The reason they aren't all sunshine and roses is because many times, there is no positive side to Autism.
Why is this so difficult for people to understand. It's very clear that many special needs parents out there don't acknowledge the difference between raising a child with Aspergers and raising a child with Autism, let alone recognize the fact that there is difference in the first place..
Autism is by definition, a spectrum disorder. Meaning that Autism is a condition that is not limited to a specific set of symptoms but can and will, vary infinitely within the continuum.
This is why Autism for you is NOT Autism for me.
Look, comparing an Aspergers child to a child with Autism really won't get us anywhere. I do however, think that it's vitally important to understand that there is a difference and aprofound one, at that.
We need to remember and even acknowledge these differences and not crucify those that are struggling with something you simply don't understand. Doing so would a step towards becoming a well informed, special needs parent, and a better, fully unified Autism community.