As the title states, it finally happened.  What exactly happened,  you might ask?  Well,  Emmett is sleeping in his toddler bed,  in Elliott's room.
This is a huge accomplishment.  We have been struggling to get Emmett to sleep in his own bed,  for quite so time.  We also wanted to try to move him in with Elliott.  Until now,  it was all just a dream.
However,  this evening was different.  We decided to try again and it worked.  Emmett is snuggled under his Lightning McQueen weighted blanket and Elliott is passed out on his bed. 

I don't know how love this is going to last tonight but Lizze and I are going to try and get some sleep while we can. 
I hope you all have a good night.  I'll talk to you all in the morning 🙂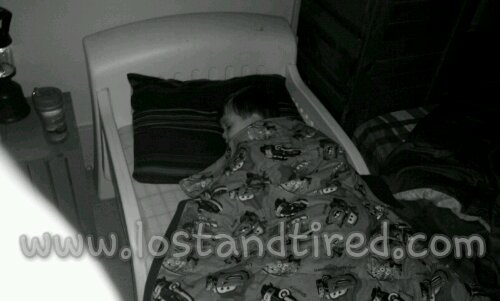 – Lost and Tired

Posted by WordPress for Android via Samsungs Epic Touch 4G (provided to me at no charge by Sprint) without the use of proper editing tools and disadvantages of a bastardized version of auto-correct. So please forgive the spelling 😉
Please Vote for Lost and Tired (just click the link) and help me spread Autism Awareness. Everyone can Vote once a day 🙂