I saddened to say that Emmett has hit yet another cycle.  He has been running a fever since yesterday afternoon and has developed large cold sores on his tongue. 
He's actually in a surprisingly good mood, considering.
If we had it to do all over again,  I don't know that I would go through with the surgery he had a few months ago. While the surgery did lessen the intensity of the cycles,  they are no longer predictable.

The cycles used to hit like clockwork,  about every 3 weeks and last for 10 days.  Now they hit at random times,  often twice a week.  They don't last as long but they are more frequent.  In a sense,  it's worse now then before because we have no idea when the next one is going to hit and for how long.
Either way,  Emmett is super snuggly and while I wish he wasn't sick,  I love and cherish these snuggle times.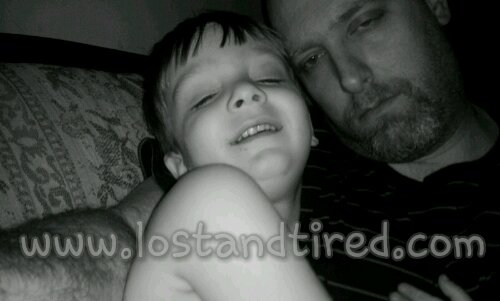 – Lost and Tired

Posted by WordPress for Android via Samsungs Epic Touch 4G (provided to me at no charge by Sprint) without the use of proper editing tools and disadvantages of a bastardized version of auto-correct. So please forgive the spelling 😉
Please Vote for Lost and Tired (just click the link) and help me spread Autism Awareness. Everyone can Vote once a day 🙂