Elliott did stay home from school today because of his fever last night,  however,  he's seems to be doing just fine now.  He helped me clean out Emmett's aquarium before lunch.
I made Elliott chicken nuggets with whole grains breading.  He had some grapes and a glass of chocolate soy milk.
This is about as adventurous as he gets when it comes to eating.  He ate everything accept all the grapes.  He loves grapes so I wasn't sure what the problem was.  I told him to just eat 5 grapes and we'll save the rest for another time.

When he came down to the last 3 grapes he really began to struggle.  When I asked him what was wrong,  he explained that the holes were to big. I was like,  what do you mean the holes are to big?
He pointed out that on the right had a bigger hole.  I explained that it was a bigger grape and so it had a bigger hole.  It made no difference. In fact it helped him to realize that the holes on the other 2 grapes weren't the same size.  He wouldn't eat any of them now. 
Do you know how hard it it to get a child with Autism to eat a balanced meal?  In my experience,  there is always something wrong with whatever we offer.  My kids struggle with the color,  texture,  smell and placement of their food.  Nothing can touch and sometimes we have to use separate plates for each item.
I would love to make breakfast,  lunch or dinner and just have them eat it,  without any drama. 
Sigh…I'm sooooo tired…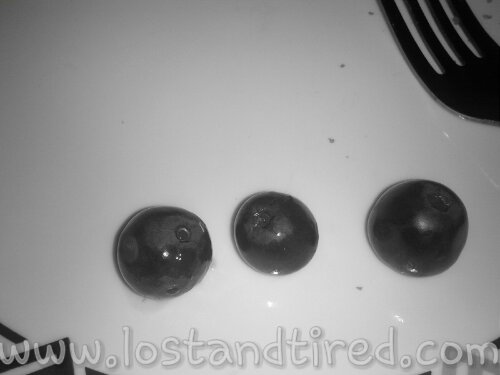 Posted from WordPress for Android