I just got back from the pediatrician with Emmett.   Basically,  there isn't anything that we can do. He likely needs longer cycles of Prednisone.  Currently he takes it 2x a day for 3 days. He may need to do that for 5 days instead.
The problem with that is Prednisone suppresses the immune system. He would need to do that once or twice a month and that wouldn't be safe.
For right now,  we're are doing 1 teaspoon of Benadryl 4 times a day.  That can help reduce the allergic reaction his body is having to the virus that is apparently causing the sores.

We will see immunology hopefully next week.  It was also recommended that we see infectious disease as well.
For now,  at least the Benadryl will help him on the back end.  The other plus is that maybe he can sleep through as much of this as possible. 
For those that haven't seen what I'm talking about when I refer to mouth sores,  see the below picture.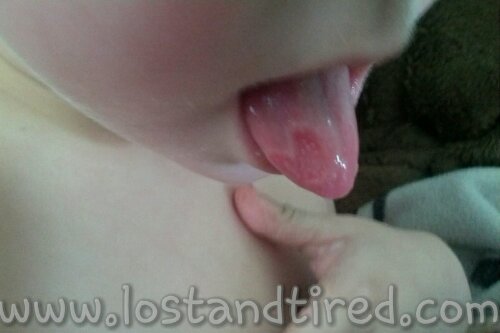 **Thanks for reading**
       -Lost and Tired
Please join our Community Autism Support Forum
Posted from WordPress for Android so please forgive any typos as auto-correct and I don't see eye to eye. 🙂