Many times I have spoken about Gavin's inability to self-regulate.  This is pretty much across the board.
One of the main concerns is his inability to regulate his own body temperature.  This may be due to a disorder called Dysautonomia,  something we are returning to the Cleveland Clinic for in the next few weeks.
Anyway,  I wanted to share an example of what I mean by inability to regulate his body temperature and why it concerns us.

In the picture below,  you will see Gavin sleeping.  However,  it's what Gavin is wearing to bed that is concerning.  He is wearing a long sleeve shirt, a T-shirt, and then a sweat shirt. He's also wearing pants and socks. He is sleeping under a sheet and comforter as well. 
It was in the 80's today and waaaaayyyy to warm for the clothes he is wearing.
However,  despite how warm it was,  he is still freezing.  Until now,  we would always discourage this because we were concerned that he would overheat. 
We have sense learned that Gavin is likely unable to regulate his own body temperature and so he has found ways to control that without even knowing.  For Gavin, this is way more than sensory related.
How many of you folks see your kids doing the same thing?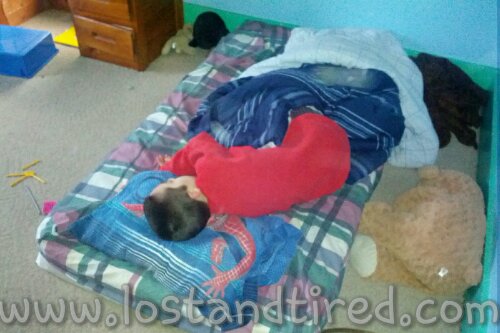 **Thanks for reading**
       -Lost and Tired
Please join our Community Autism Support Forum
Posted from WordPress for Android so please forgive any typos as auto-correct and I don't see eye to eye. 🙂