This is Elliott's rendition of Link from the Legend of Zelda in Lego's.
You'll also notice that Elliott's left eye has a yellow circle around it.  If you look closely,  you can see just how close he came to losing his eyes yesterday. 
Bella went into hyper mode and jumped up on the couch not realizing Elliott was laying there.  She landed right on his face and he just happened to be in mid blink when it happened. He's very lucky.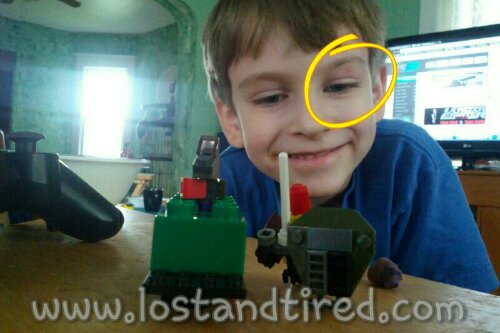 **Thanks for reading**
       -Lost and Tired
Please join our Autism Help Forum
Look for "Autism Help" app at the Google Play Store

Posted from WordPress for Android so please forgive any typos as auto-correct and I don't see eye to eye. 🙂