We all suffer through watch shows with our kids.  While we enjoy the time with our kids,  the suffering part comes along with the obnoxious shows they have on for kids anymore.
I thought it would be fun to share what shows we hate the most and why.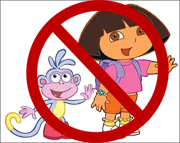 Personally,  I can't stand Dora the Explorer.  I don't know that I have a really good reason for it,  but after years and years of having it crammed down my throat,  I simply can't stomach it any more.

I mean,  who let's their little kid wander the jungle alone with a friggin monkey anyway?
I also don't like how they make very dangerous animals look friendly and approachable to kids. Who really pals around with an anaconda for a day and doesn't get eaten? Am I right?
Please share your least favorite show that you suffer through for the sake of your little kiddos.