The good news is that there is a chance that Gavin may come home tomorrow, if he continues to improve. 
We have also learned that he has been cleared by the cardiologist.  So that means his heart is in good shape.  That's good news also.
Gavin's fever has broken,  so he physically feeling better but sleeping most of the time. That's good news as well.

When I make this next statement,  you have to understand how long we have been doing this. We have been on a search for answers to Gavin's mysterious health and mental health issue for the better part of a decade.
This 10 year journey,  while absolutely worth it,  has come at a great cost to my family. The emotional,  physical and financial toll has been devastating,  and I truly mean that.
So while all of the latest news about Gavin's health is good news,  it's also extremely frustrating as well.
It's frustrating because we have no idea what caused this latest autonomic crisis. No one can explain his chest pain or the mysterious migratory rash.  No one can tell us why exactly this happened,  why any of this keeps happening.
How are we supposed to know how to avoid this if we don't understand what triggered it in the first place?
I hate that he had to go through this.  However,  if we had found answers,  at least we would have learned something new.  It would have made this whole thing worth it.  Does that make sense?
Instead,  we've spent the past 3 days in fear for Gavin's life,  only to have everything mysteriously improve. 
What we do know is that any type of excitement or excursion can trigger and autonomic crisis in kids like Gavin. While kids like Gavin are exceedingly rare,  that does appear to be a common trait.
If you think about excitement or excursion,  those are vague terms,  and could honestly mean just about anything.
Is OT or PT considered to physically straining for him? What about his meltdowns? Is going to movie or having fun playing with his brothers to exciting?
These are very real questions that no one has the answers to. It's certainly not for lack of trying.  Gavin just continues to confound medical science and that scares the hell out of me. 
The only thing that we have learned,  at least in theory is that the general consensus is that this is likely mitochondrial in nature. To that end,  we are working to get into the mitochondrial specialist at Akron Children's Hospital.  He's similar to TV's Dr.  House in the fact that he's the very best at what he does and so he's very,  very difficult to get into see. 
Having said that,  the only direction left to go in is mitochondrial.
The doctors at Akron Children's Hospital are working with the doctors at the Cleveland Clinic.  There is another test that may have to be done but it's never been done on a child.  Basically,  the child is placed in a hot box and they measure sweat and others things.  This is done on adults and while it's possible to do this with Gavin,  no one is comfortable doing it and for good reason, it's dangerous.
Having said that,  the Cleveland Clinic is bringing the Mayo Clinic in on this and collectively,  they will try to come up with some answers.  This brings the total hospitals involved to 3, the Cleveland Clinic, Akron Children's Hospital and now the Mayo Clinic. If I were stacking the deck in my favor,  I don't know that I could get a better hand. 
I'm sooooo grateful that Gavin is slowly recovering but I'm also absolutely frustrated that he went through this for nothing. While we should walk away with Gavin do much better,  we also walk away with the knowledge or fear that we have no idea how to avoid this in the future.
This is how good news can be frustrating.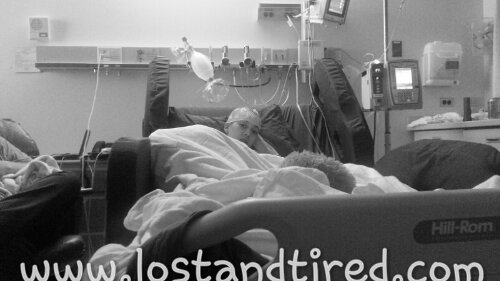 **Thanks for reading**
       -Lost and Tired
Please join our Autism Help Forum
Look for "Autism Help" app at the Google Play Store

This was posted via WordPress for Android, courtesy of Samsung's Galaxy S III. Please forgive any typos. I do know how to spell but auto-correct is working against me.