As a special needs parent to 3 boys on the #Autism spectrum,  healthy eating can be extremely challenging.  My kids have many sensory issues that interfere with eating many new foods.  These issues revolve around taste,  texture,  smell or color.
Anyway,  I'm on a quest to make meals as healthy as possible. That means getting them to eat their veggies. 
Today,  I spent all day making my world famous,  chicken noodle soup.  Alright,  maybe world famous is a stretch,  but it's pretty friggin good.

Can you see the veggies?  Nope.  You most certainly cannot.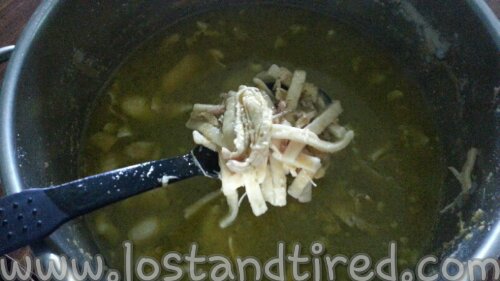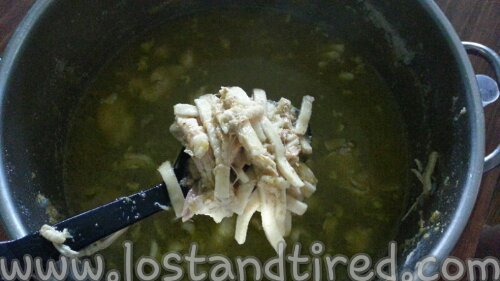 All you see is chicken,  noodles and broth. What you don't see,  or taste for that matter is all the veggies I crammed into this soup.
Here is the list of all the super healthy,  vitamin packed veggies that my won't know they're eating.
1) One full package of baby spinach
2) One whole onion (large)
3) One full bundle of green onions
4) 2 lbs of baby carrots
5) 1 lb of fresh string beans (green)
6) 2 cups of fresh milled flax
I think that's a pretty decent amount of veggies to sneak into their food.  Emmett already tested it out and he loves it.  He didn't even taste all the other stuff.
Want to try this for yourself?
All I did was throw everything into the blender and liquefied the veggies.  I then added them to the soup and let it boil for a few hours. All the veggies disappear,  leaving all the vitamins and minerals. 
Maybe it's not the same as just eating them fresh,  but at this point,  it's better than nothing. 
**Thanks for reading**
       -Lost and Tired
Please join our Autism Help Forum
Look for "Autism Help" app at the Google Play Store
This was posted via WordPress for Android, courtesy of Samsung's Galaxy S III. Please forgive any typos. I do know how to spell but auto-correct is working against me.