The boys had therapy yesterday afternoon.  All was well until right before we arrived at Concorde Kids. However, I've gotten ahead of myself.
Emmett and I went to pick up his brothers at school, around 2pm. They all had either speech, OT or both.
When Elliott got into the van he was a little bit upset because he was missing get snack time.  He talked himself through it and was doing ok. 
While on the way to Concorde Kids,  Elliott made the comment that 3pm would be here really soon and he could go home and have a snack.  I thought that was very mature of him and I was about to tell him how proud of him I was for handling that so well.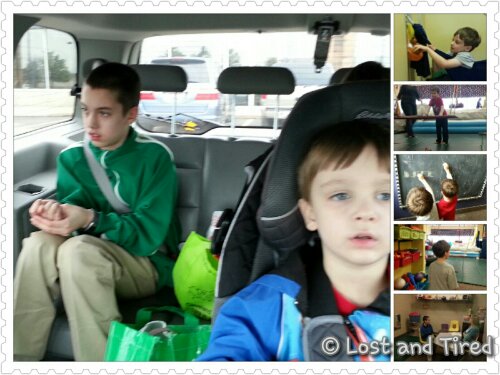 However, before I could open my mouth,  Gavin opened his.
He told Elliott that 3pm was a really,  really long way away and that it was going to take forever.
At that point, Elliott burst into tears. 
Apparently, he had been holding it together,  but just barely. Gavin words broke through Elliott's soft shell and exposed his extreme level of anxiety.
Gavin claims he misunderstood Elliott but whatever. I was right there and I personally witnessed the entire event. 
That set the tone for the rest of Elliott's day.
Gavin was told that because he did what he did to Elliott,  that he wouldn't be allowed to have any snacks himself.  This of course led to Gavin having a little tantrum,  in the van. 
Even though it was mild,  it is close quarters in the van and so that made it even worse.
Gavin went on to be uncooperative at therapy by having 2 mini tantrums in the hours he was there.
As I mentioned in a previous post, the rest of the night wasn't any better.  We had issues at Dr. Patti's office as well. Gavin complained of chest pain as soon as he was being questioned about his behavior.
So far,  today hasn't been any better.  However, that's for another post. 
This was posted via WordPress for Android, courtesy of Samsung's Galaxy S III. Please forgive any typos. I do know how to spell but auto-correct hate me.
Please join our Autism Help Forums
Look for "Autism Help" app at the Google Play Store