We will be taking Elliott to see his pediatrician in the morning. We will be meeting about what medication to try with Elliott. 
In case your new to my blog or simply forgot, Emmett is experiencing extreme levels of anxiety.
Essentially, he's a 6 year old little boy with aspergers,  living in a situation that is simply too stressful. He doesn't have the coping skills to deal with everything he's being asked to.  Heck, I'm 34 and don't have the coping skills to deal with everything.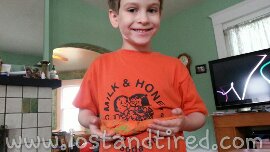 Anyway,  the plan of attack was originally to treat the signs and symptoms of ADHD.  The reason for that is that the medication is very fast acting and we'll know right away if it's going to work. 
Having said that,  the problem is that his ADHD symptoms may simply be the result of anxiety. 
I happen to be in the camp that believes we should focus on anxiety because we know for sure that it's there. He's not consistently hyper or unable to focus.  He's doing great at school but struggling at home. 
I'm not exactly thrilled at the idea of putting Elliott of meds but the quality of his life is being diminished by anxiety and if we can help him with that then we owe it to him.
He's already in weekly therapy but it's just not enough. 
The medication would be used in conjunction with ongoing therapy or counseling for a synergistic affect.
I'm praying that we walk out of the appointment with a script that will help to provide him with relief. With the news that his big brother will be leaving, he's on the edge.