Here is the disclaimer.  Hopefully, this will help to avoid some of the hate mail. Please keep in mind that I'm referring to the impact #Autism has on my kids. I'm not referring to my kids themselves.
My poor little Emmett John is in a fever flare again.  We noticed yesterday, that his tongue is full of little sores.  Typically, his mouth is full of really big sores when a flare up occurs. 
This is new to us and aren't sure if this is better or worse than normal.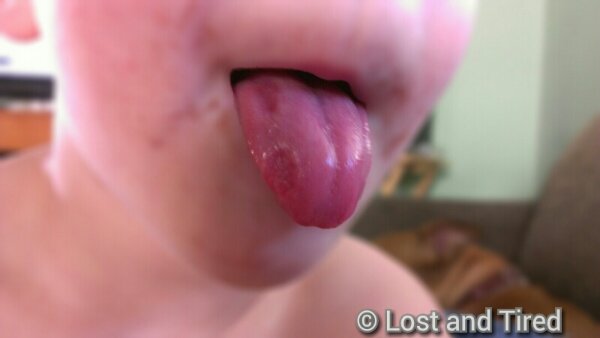 Note this picture is from a previous flare. Hopefully you get the point though.
I say that because the actual volume of sores is higher than normal.  They are smaller but there are more of them. Emmett doesn't really tell us when something hurts him.  The only way we know is by watching his behavior.
This is one of the things that I hate about #Autism.  I hate that my son can't tell me where it hurts.  Despite all the progress made in his expressive language skills, we still struggle with conversational things.  He still has a difficult time expressing himself. 
Are there times when you hate #Autism as well? I realize this is probably a loaded question but let me make this very clear. This blog is about honesty and speaking ones mind, without fear of judgement. 
I'm sharing a very personal feeling about #Autism, in the sense that it makes communication difficult at times.  I certainly don't mean anything negative about my kids. I just get frustrated with how the symptoms can make difficult, the lives of the children I love more than anything in the world.
What do you hate most about #Autism's impact on your child?