I know I haven't had much in the way of updates on Operation Hope. Right now, it's moving at a snails pace.  In fact, I think the snail would beat us.
The problem is that Wraparound is currently waiting for records to be transferred.  These records are necessary in preparation for going before the board and petitioning for funds.
Unfortunately, Gavin has a lot of records. 

It's going to take some time to get everything in order.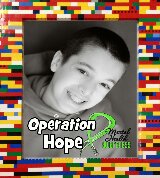 At the moment, Wraparound is trying to help us with our mortgage.  We have fallen behind, not that it's a shock to anyone to hear that. 
Anyways, they are helping us locate resources that might be able to help us get caught up, so we don't slip further behind.
If we do manage to figure anything useful out, I'll be sure to share the details, so that anyone local that needs help and know their options. 
If I can share what I learn with you and it helps someone, that makes me feel really good.  🙂
Outside of the mortgage stuff, we're pretty much waiting on the records in order to move forward.  I was hoping that we would have something figured out before the end of this year.  However, I don't know that it's a possibility. 
Everyone is doing everything they can, it just takes time and obtaining the records is a slow process, especially considering the volume that needs to be collected. 
As far as the getting Lizze help part of Operation Hope goes, we're in a holding pattern as well. 
Later this month, she will enter the headache clinic at the Cleveland Clinic.  Before that though, she will be having another sleep study done because the sleep specialist is concerned about periods of apnea.  That means periods of time where Lizze stops breathing at night. 
She noticed that Lizze has a very narrow airway and it would very easily become occluded.
That's it, in a nutshell anyway. 
When I know more, you'll know more.  🙂
Thanks again for all you love and support.