As you may recall, a few days ago Elliott was officially diagnosed with serious allergy to almonds.  His immunologist wants any and all tree nuts removed from his diet and he must carry an epipen of his person, at all times.
This is a pretty big hit and we weren't prepared for this. 
We literally just moved past Emmett's food allergies to milk, egg and lactose. I think he was officially declared allergy free about 2 months ago.

Now we are scrambling to figure out what Elliott can and cannot eat.  Once again the rug is yanked out from under us.  Poor Elliott is really upset and is becoming paranoid that there's some type of tree nut in everything he eats.
We've also had to introduce him to his new best friend, Mr. Epipen Jr…….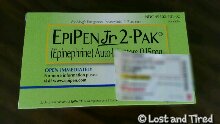 He's not really fond of him at the moment but we explained that if he is unable to breath because of something he ate, this can save his life. 
We also explained that hopefully, he'll never need it because we are going to be very careful about what he eats. 
The doctor explained that while Elliott is allergic to almonds, there is an increased risk of him developing allergies to other tree nuts.  He will have to be on a very ridged diet in order to ensure that he doesn't come into contact and ingest something with tree nuts in it.
This will be the new norm for the boy known as Elliott, for at least the next year. 
After one year, he will be tested again and possibly food challenged at some point.
For now, it's the day before Thanksgiving and we didn't plan a tree nut free Thanksgiving. We also hadn't planned on tree nut free grocery shopping either. 
This is going to be a very rough couple of weeks until we get our feet on the ground. We are going to have to work very closely with the school to figure out how to handle this during the day.
We may be packing his lunches from now on. 
I do want to also note that this could be worse and I'm aware of that.  It doesn't seem like that at the moment but…… I'm very grateful that Elliott was able to voice what was happening to him so we could get him tested.  Hopefully now, we will be able to protect him better because we know what we're up against. 
This is my glass half full statement for the day.  I don't think I have anymore in me right now.  🙁