Lizze spoke with the school this morning about Elliott's new diagnosis. They we're very cooperative, as I knew they would be.  They also supported keeping him home until we get everything figured out.
There is paperwork and they need their own set, as in two, epipens. These would stay at the school at all times.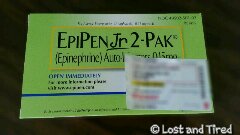 We have to call the doctor about this because we only have two and those are for home.
We spoke with the pharmacy and it's $400+ for two more pens.  Insurance will only cover 1 script per month.  I'm not sure at the moment, how we're gonna work this out. 
I think the immunologist will have to fight for it, otherwise, how is he going to return to school? I mean, we can't give them his epipens from home because what happens if something happens and he needs them? We also can't send him to school without them for the same reason.
This is one of those rock and a hard place type of thing.