Lizze and I have experienced something today that most people will never experience in the course of parenthood.  Let me back up and give you some background. 
As you may or may not know, our almost 13 year old Gavin, has been diagnosed with something called Reactive Attachment Disorder. 
Without going into huge details about that, I'll just sum it up for you the best way I can.

Keep in mind that this may be different for every person. However, in Gavin's particular case, he's not capable of making attachments to people, at least in a healthy way.  For Gavin, there's always an angle and it's always about him. He's a child without a conscience, literally incapable of feeling remorse for his actions.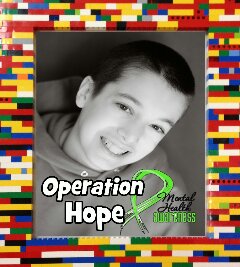 The doctors tell us that he is lacking the neurological connections needed to care about others.  Sure, he can play the part well.  However, when it comes down to it, Gavin would trade his family for a Lego set.
I know that sounds dramatic but it's the truth.
Things have become so difficult with Gavin that we had no choice but to move him out of our house and into his grandparents house. 
He became far to dangerous to safely manage at home.  Currently, we are in the process of trying to put funding together in order to send him to a residential treatment facility, as that's his only chance. 
Does this make Gavin a bad person? No.
It makes Gavin a person that will do whatever it takes to get what he wants, regardless of who he has to step on or hurt along the way. 
Having said that Gavin loves us in his own way.  Is it healthy? No it's not, but it's all he can give. Gavin has told us many times that he wishes he cared about us, he just doesn't. 
While that's difficult to hear and his behaviors and manipulative actions are impossible to cope with in the home environment, we love him very much.
Lizze, myself and Gavin's specialists have been concerned about his lack of conscience for many years.  We were desperately trying to defeat nature with as much nurture as we could muster.
Realistically though, we lost that battle before it started.  However, we continued to pour everything we had into him, in the hopes of helping him to push passed this.
Wow, I went off on a tangent.  Let me steer us back on point. 
We have never lost a family member in recent years that Gavin had any type of relationship with.
With the passing of Lizze's Grandfather this week, we were concerned about how Gavin would react.  Honestly, we often forget that he's wired the way that he is and continue to try to ensure his emotional well being. 
Lizze's Mom informed Gavin of his great grandfather's passing.  She did so because at that moment, there wasn't really another option.  Gavin discovered her visibly upset and wanted to know what was wrong.  She explained to Gavin in a very tactful way, what had happened. 
Gavin was pretty ambivalent to what he had been told.
In a way, that's a positive thing because we need Gavin to be as emotionally stable as possible.  He has exhausted every possible anti-psychotic medication available.  If he becomes too unstable or is significantly upset or traumatized, the meds could stop working and we would be left with no recourse.  Gavin would basically become an unmedicated schizophrenic. 
On the unpleasant side, he just doesn't seem bothered by this.  Kids all react differently to loss.  However, in this case, it's like Gavin doesn't feel the loss. 
If we were to inform Elliott about his PoPo having passed, he would he devastated. 
Unfortunately, Elliott and Emmett weren't lucky enough to have really known him for the great man he was.  Yet Elliott would still feel that loss.
Gavin had much more of a relationship and has really no reaction at all. 
I spoke with Gavin this afternoon because I wanted to make sure he was okay.  We spoke about how people are sadden by the loss of a family member but he just didn't really have any feelings about it one way or the other.
This was a pretty big reality check for both Lizze and myself.
This is really the first time we have been in a situation like this with Gavin. We knew that Gavin was lacking in the empathy department but something like this is difficult to take. 
I want to make very clear that this doesn't make Gavin evil or bad.  It just shows his inability to really feel any kind of empathy for others.  This is something that is not his fault and completely outside of his control.
Having said that, this is a huge problem and something that we are desperately working to help him with. 
To anyone that may not be following what I've been saying, basically, Gavin is on the road to being a sociopath, but can't be officially diagnosed until 18. That doesn't mean he's going to do bad things the rest of his life.  In the simplest terms, it means that Gavin simply doesn't care about anyone but himself. He will do whatever it takes to get what he wants and feel no remorse for anyone he may hurt along the way. 
When I said that Gavin loves us in his own way, think about it like this. 
Before I say this, I know how it sounds but it's the best way to illustrate my point.
Lizze and I love our family.  We show that we love them by caring for them and putting their needs before our own.  We tuck the boys in at night and are always there for them. 
In Gavin's case, he doesn't do anything of those things.  In Gavin's case, he may be showing that he loves us by not killing us in our sleep. 
Again, I realize how that sounds but I needed to illustrate just how different he's wired.  The scarey thing is that this may not be an exaggeration. Just ask any parent with a RAD child and I'm sure they could tell you things that would make your skin crawl.
That is a problem and honestly something that scares me to death.
I've known this for a long time but every once in awhile we sorta round a corner and experience something new.  That something new can often be disturbing but it always gives us a better understanding of what we're dealing with. 
That's about as positive as it gets with a situation like this.