IdolPad Mini Studio android tablet review
Lost and Tired is proud to work with Idolian, in conjunction with millerrupp.com to not only review this tablet but give some away to my readers as well.
I wanted to make sure I told you to check out Idolian's website because they have tons of great tech for a reasonable price.

Now let's get to the details.
The Mini Studio is an 8 inch tablet powered by android 4.1 (Jelly Bean) from Google. This particular model is designed to go head to head with Apple's new iPad Mini.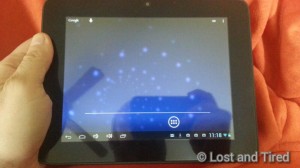 While I don't own an iPad to do a side by side comparison, I have used them, including the iPad Mini.
The Mini Studio stacks up quite well, in this technology nerd's opinion.
Let's talk price and get that out of the way first. The iPad mini begins at $329 for the 16GB wifi (only) model. The Mini Studio will only set you back $198 for the same 16GB wifi (only) model.
Take a look at the chart below and see for yourself how the specs stack up.
Model Factory

iPad MINI

Studio 8

Price

$329.00

$198.00

LCD

Size

7.9"

8"

Aspect

4:3

4:3

Resolution

IPS 1024×768

IPS 1024×768

Touching panel

Multi touch capacitive

Multi touch capacitive

CPU

Brand

Apple A5

RK

Frequency

1.0GHz

1.6GHZ

Core Model

Apple A5

A9 dual core

Memory

RAM

1GB DDR3

1GB DDR3

iNand Flash

16G

16G

System

OS

iOS 6

Android 4.1OS

Language

Multiple languages

Multiple languages

Web browser

Google standard

Google standard

Flash Player

Flash 11.1

Flash 11.1

Connectivity

Wi-Fi

802.11b/g/n

802.11b/g/n

Bluetooth

support

Support

3G

support 3G Dongle

support 3G Dongle

3G with VOICE

NO

NO

GPS

NO

NO

HD AV Wireless

NO

NO

Dock Station

NO

NO

Camera

Front

1.2M

0.3M

Rear

5.0M

2.0M

Speaker

Mono

NO

NO

Stereo

YES

YES

Mic

YES

YES

Sensor

Accelerometer

Only G-sensor

Ambient Light

Gyro

Elect. Compass

Vibration

NO

NO

HD

player

1080P

1080P

video

VGA

VGA

Connection

USB

–

YES

Lightning

YES

NO

IPAD dock

YES

NO

HDMI

–

YES

SD Card

–

YES

DC Jack

–

YES

Ethernet

–

connected by adapter by USB port

SIM card slot

–

NO

Battery

Type

Li-ion Polymer

Li-ion Polymer

Capacity

4490MAH

4500MAH

Power

AC Adapter

–

5V,2A

–

Accessories

AC Adaptor

YES

YES

Headphones

NO

NO

User Manual

YES

YES

USB Cable

YES

YES

HDMI Cable

NO

NO

Case

NO

NO

Others

NO

NO

Enclosure

 Rear Cabinet

Aluminum Alloy

Aluminum Alloy

Certification

FCC

YES

YES

CE

YES

YES

UL

Only Ac-adapter with UL

Only Ac-adapter with UL

RoHS

YES

YES

Others

ErP, LVD, EMC, RTTE

ErP, LVD, EMC, RTTE

USB

NO

NO

HDMI

YES

YES

MPEG

NO

NO

DivX

NO

NO

Others

NO

NO

Weight

308G

420G

 Dimension

Product(mm)

200*134.7*7.2

209x163x10,edge 4mm only
I've been putting this Mini Studio through the ringer for the past couple of weeks, prior to posting my review. I have to say that I'm very, very impressed with not only the build quality but also the performance. Having spent far to much time, with far to many tablets in the past, I have quite a bit of experience in this department.
Having said that, I'm still extremely impressed with almost everything about this device.
This tablet has run everything I've thrown at it, from games to live wallpapers, music and movies. It runs like a champ and never seemed to really struggle with anything.
The UI is buttery smooth and a pleasure to use. I did however replace the it with Nova Launcher, as I'm partial to that but the ability to do so is just another example of the advantages the Mini Studio has over it's competition, otherwise known as the iPad Mini. The android OS allows for, nay, encourages the user to customize it to their personal liking. Don't like the launcher, download a new one. Don't like the on screen keyboard,  download a new one. You can pretty much find a replacement app for anything you could possibly need. They're all located on the Google Play Store and many of which are free.
Over the past couple of weeks, I found this tablet to be very intuitive, responsive and easy to use.
My kids have been playing with it and it's worked out very well for them.
I have even been able to use it for what I need as well and I'm extremely picky.
We have used this device to stream Netflix and watch ripped DVD's from our personal collection. The Mini Studio handles these tasks and more with ease and efficiency. The boys have also played their educational games by Intellijoy as well as enjoys games like Angry Birds, Where's My Water, Where's My Perry and Sprinkle. 
The resolution is 1024×768,and is on par with the iPad Mini and other android tablets of it's size. The text and icons are crisp and very readable on this 8 inch IPS display.
I was really impressed with the external connections this tablet supports as well. As you can see below, you have a dedicated charging port, mini hdmi, microSD, micro USB, headphone jack and a reset button. All ports are clearly labeled and easily accessible.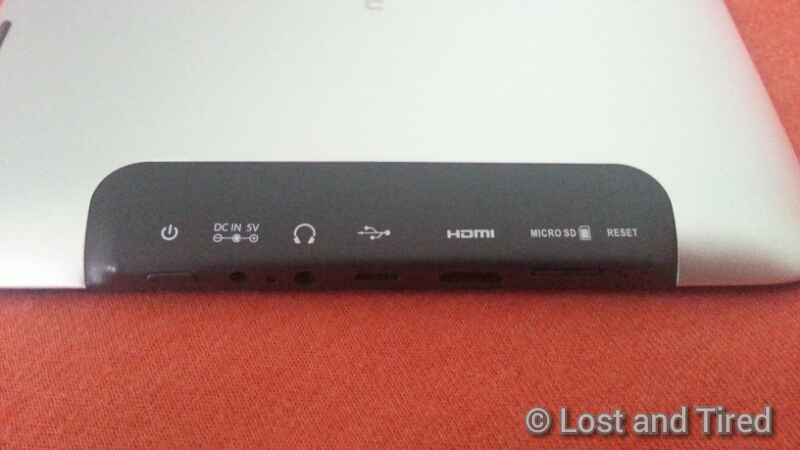 As I mentioned before, the built quality is very good. The Mini Studio has a brushed aluminium back and smooth rounded edges. The speaker is located on the back and is sufficiently loud enough for most use.
There is also a nice volume rocker on the rear as well, towards the top right corner.
The back also houses the the rear facing, 2MP camera. This is the one area that the Mini Studio takes a back seat to the far superior 5MP of the iPad Mini. This trend continues to the front as well with the Mini Studios .3MP front facing camera also falls short of the iPad Mini's 1.2MP front facing camera.
That's not to say that the cameras on the Mini Studio are terrible because they're not. It just would have been nice to see a bit higher quality in that department.
Having said that, they certainly get the job done and it's really hard to argue that, especially at the sub-$200 price tag.
The overall feel of the device is very solid and I like that. It doesn't feel like it's going to break in your hands. There is also no creaking in the joints as well. I've experienced this creaking on many other devices and it make the device feel cheap and poorly made.
I have to say that I'm extremely impressed overall, with the Mini Studio by Idolian. I really have a hard time finding any faults, especially when you consider what your getting for the money. This is a solid device and while lacking a few things like ambient light sensors, it makes up for it in the performance and affordability departments.
I mentioned that I would be giving some of these away to my readers. Stay tuned for more information and details on the giveaways, coming soon. 🙂