I think that this is an extremely important topic and one that we are experiencing right now. How do you talk to your Autistic child about death? I think that this is a very sensitive issue because we have very sensitive kids. How do you explain to a child, let alone a child with Autism, that a loved one has passed on? How a situation like this is handled can have a lasting impact on your child.
I spoke to Elliott and Emmett this morning because they were going to noticed that something was different about Mommy. For anyone that's a bit tardy to the party, Lizze lost her Aunt Paula early this morning. She fought a war against cancer for a very, very long time. She is among the bravest souls I have ever had the honor of knowing.
Lizze and her Aunt Paula were very, very close and so she has been hit hard by this. I wanted to make sure that the boys understood what was going on because they are prone to anxiety and they will worry their little heads off about their Mommy.

I explained to them that "Mommy might be acting a little different than you're used to. Everything is okay but Mommy's just really sad." They wanted to know why and I explained to them that "Aunt Paula was very sick and she died last night." I needed to be very careful that they didn't generalize this as people on the Autism Spectrum can do.
I couldn't have them fearing that anyone that gets sick is going to die. They understood for the most part, at least Elliott did. Emmett kept asking friggin questions that I really didn't know how to answer.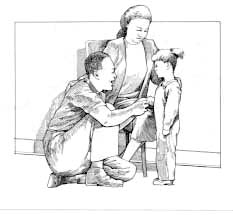 My kids are very intuitive and never seem to be satisfied with age appropriate answers, especially Elliott. I absolutely dread have the sex talk with him. I can't imagine the questions he will have then……
Today's talk with the boys about death and loss went pretty well. They seem to understand and I actually survived the discussion without putting my foot in my mouth, not even once.
Something to remember is that every child is different.
A discussion of this caliber, benefits from having thought about what to say before you say it. There are so many times that I thought I could handle a sensitive conversation with my kids, only to end up completely frazzled and panicked because my kids started asking questions I wasn't prepared to answer. Whenever possible, you should plan the conversation out, for the love of God, don't wing it unless you have no other choice.
Keep the following in mind:
1.) Keep the conversation simple.
2.) Remember to be age and developmentally appropriate.
3.) Be prepared to answer questions in a very matter of fact way.
4.) Don't freak out if your asked a question you don't know how to answer. Simply redirect.
5.) Many kids on the Autism spectrum can an will pick up on your subconscious ques. If you're upset, they're upset.
6.) Be very reassuring and remind them that they are okay.
7.) Try to smile, even if you feel like vomiting. Remember they will follow you're lead.
8.) Don't drag the conversation out too long.
9.) Redirect, if the conversation takes a turn you want to avoid.
10.) Remember that you may have to explain things differently to different kids, even if they are siblings and don't forget that you can redirect if you need to. This can and will be a life saver for you.
This list is meant to provide you with the basic tools needed to approach a sensitive conversation like death or loss. Sometimes it's best to involve a professional, like we do. We have Dr. Patti to fall back on whenever we need guidance or simply don't know what to say or do.
I wish you the best of luck and remember you can always share your experience here and everyone would be happy to help. In fact, please share your tips or tricks, as they relate to discussing sensitive issues with your kids on the Autism spectrum.

This site is managed via WordPress for Android, courtesy of the @SamsungMobileUS Galaxy Note 2 by @Tmobile. Please forgive any typos as autocorrect HATES me. 😉
Check out my #Autism Awareness Store to find really cool and unique #Autism Awareness Clothing and Accessories, designed by me. 😉
For more ways to help the Lost and Tired family, please visit Help the Lost and Tired Family.