I want to share something with all if you that I have never shared before because I am ashamed.  Perhaps your imaginations are running wild, but it's nothing really bad.  Either way, it's something I'm not proud of but I'm no longer going to allow this to control me.
You might remember how I push for special needs parents to take care of themselves. 
This is something that I take very seriously myself and here's why.  I used to be a body builder and was in really, really good shape.  I would hit the gym daily and I took really good care of myself.

In my prime, I was right around 220 lbs and solid muscle.
Everything changed after  I suffered a major back injury and I eventually became a parent and then a special needs parent.
I basically let myself go.  As of last week, I tipped the scales at just over 300 lbs, the heaviest I've ever weighed.  Between the low self-esteem and depression, things just got out of control and it affects every aspect of my life. 
Having said that, I'm very motivated to make a change or changes, if needed. 
Lizze and I both have been exercising and we started walking again, as the weather has warmed up.  My goal is to get back up to walking 25-30/week.
I want to work on my self-discipline and gain control over my diet. 
So far this week, I've lost almost 3lbs and Lizze has lost 10 lbs over the past two weeks.  She's a huge inspiration for me because she's determined to take her life back and she's pushing through an unbelievable amount of pain in order to do this.
It's so important that we take care of ourselves because our kids need us. 
I wanted to invite all of you to join Sharecare.com.
Dr. Oz and he partners have put together some amazing tools to help people gain control over their health.  There's a huge support system in place and fun ways to track your progress. 
Trust me, I know how difficult this will be.  There are so many things we have to worry about that there never seems to be time to care for ourselves. 
Please, please work with me and let's get healthy together.  If you're already there, maybe you have share some advice and personal experience with the rest of us. 
I will be leading by example and hopefully my journey to better health will inspire others to do the same. 
This picture was taken yesterday, right after Lizze and I finished an almost 3 mile walk in about 45 minutes.  I'm so proud of her.  🙂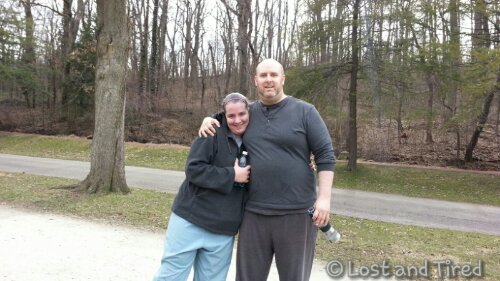 This site is managed via WordPress for Android, courtesy of the @SamsungMobileUS Galaxy Note 2 by @Tmobile. Please forgive any typos as autocorrect HATES me. 😉
Check out my #Autism Awareness Store to find really cool and unique #Autism Awareness Clothing and Accessories, designed by me. 😉
For more ways to help the Lost and Tired family, please visit Help the Lost and Tired Family.