I finally made it out to the track again today after a few days off, due mostly to weather. As a special needs father, I have to work extra hard to get time to take care of myself. 
It's not easy at all but it's a very necessary evil.
For those wondering how I can possibly find the time to get out and walk, this is how it typically goes. 

This usually happens one of two ways. 
If Lizze is having a good day and is walking with me, my Mom usually hangs out with the boys.  However, if Lizze isn't having a good day, like today, the gs work out much differently. 
Basically, I have to time my workout in between Lizze's scheduled times to take her medication. Her meds male her go to sleep and so she can't take them if In not home.  Likewise, I can't leave if she's taken her medication either.  She takes her meds every four hours and she has to stay in schedule or risk getting behind the pain.
Those of you dealing with chronic pain understand what I mean. 
She typically can't go more than an hour before the pain begins to overtake her. Once that happens, it can take a few days to get her back in front of the pain.
That leaves me with a very small window of opportunity to get some exercise in. 
As you can see by the stats in the pictures below from today's workout, I don't leave much wiggle room. 
This is a sacrifice on both our parts but one that's well worth the effort. Things will have to be this way until I am able to get a decent treadmill or in a perfect world, my tread climber.  🙂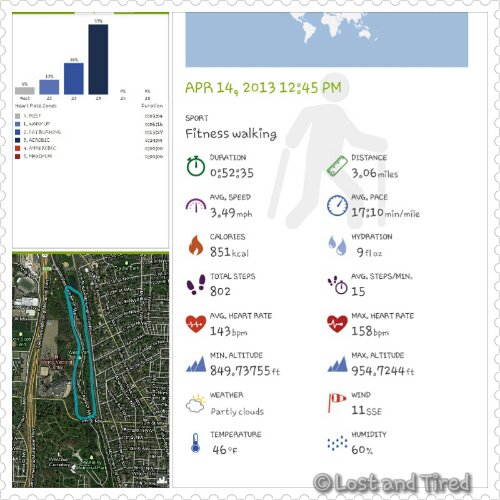 This site is managed via WordPress for Android, courtesy of the @SamsungMobileUS Galaxy Note 2 by @Tmobile. Please forgive any typos as autocorrect HATES me. 😉
Check out my #Autism Awareness Store to find really cool and unique #Autism Awareness Clothing and Accessories, designed by me. 😉
For more ways to help the Lost and Tired family, please visit Help the Lost and Tired Family.