I wanted to share one of the things I find the most inspiring in my life.  It's probably obvious that my wife and kids are my source of inspiration.  However, I want to single someone out for a minute and celebrate what I find so inspirational.
For those of you that have been reading this blog and following our story for a few years, you probably know Emmett's story. 
With that said, I wanted to share it for those who aren't aware…..  🙂

My little (or rather, not so little) Emmett John  had a really rough start to life.  Emmett will be 5 years old this June.  For the most part, Emmett is doing really well. 
That wasn't always the case. 
Emmett was born  a few weeks premature after Lizze heroically carried him through a very, very complicated pregnancy.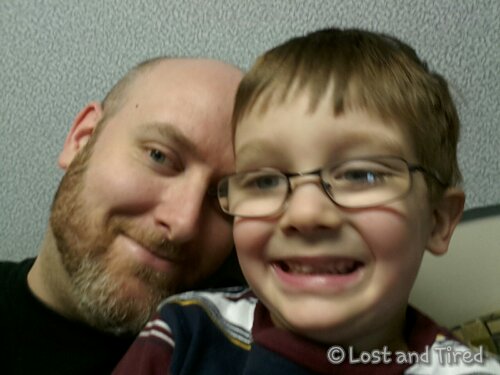 When  Emmett was born, June 26th, 2008, he was in good health.  All the things that we were worried about fell by the wayside.  He even went home of  schedule. 
Shortly after, he became jaundice and needed to spend a large part of his day and night wrapped in a wallaby blanket. After some time, he recovered but there were some scary bumps along the way.
After the wallaby blanket came the apnea monitor.
Emmett went through a period of time where he would stop breathing and was hospitalized a few times for apnea related issues. 
Thankfully it appears to have been reflux related and he outgrew it.
As he got older, the next challenge to come would be multifaceted.  Emmett was believed be deaf and he wasn't developing speech. After suffering chronic ear infections, he had tubes placed in his ears.
Many hearing tests and evaluations were failed, the only thing standing between him and officially being declared deaf was a test called the ABR.
Unbelievably, he past the test. It showed that he was hearing sound and that his brain was processing it.
It turns out that he was simply filtering us out.
This lead us down the path to Autism.
While journeying the long and winding road to a future diagnosis of Autism, Emmett developed new health issues. He developed serious food allergies and a very rare fever disorder that would last the next couple of years.
Along the way, he needed surgery to remove his tonsils and adenoids.
My point in sharing this is that despite all of these obstacles, Emmett persevered, never once complaining about the anything.
Today, he's doing amazingly well. He's talking and each day he surprises me with his advanced intellectual abilities, understanding and compassion..
On the days that I just don't think I can make it. When I think I can't pick myself up and move forward. It's on these days that I am truly inspired by Emmett's ability to never, ever give up.
Inspiration is something that I draw on as often as I possibly can. It motivates me to keep on keeping on.

This site is managed via WordPress for Android, courtesy of the @SamsungMobileUS Galaxy Note 2 by @Tmobile. Please forgive any typos as autocorrect HATES me. 😉
Check out my #Autism Awareness Store to find really cool and unique #Autism Awareness Clothing and Accessories, designed by me. 😉
For more ways to help the Lost and Tired family, please visit Help the Lost and Tired Family.