This past week has been a grueling one, for all of us in the Lost and Tired family.  We had more appointments than I care to remember and more than our fair share of bad news.
This past week has brought us long sought after information. 
I've also discovered that sometimes, you don't like the very information you've been looking for once you find it. 

This is a brief rundown of the happenings from this past week:
1) Lizze is confirmed to be in menopause (at age 32)  and there may not be any treatment due to her history of blood clots.
2) The reason for early menopause may or may not be because of a possible mistake made during her hysterectomy 2 years ago.
3) Lizze's previous OB/GYN is refusing to turn over records to the Cleveland Clinic. Why? Why indeed….
4) Lizze's Left knee may require surgery, pending an upcoming MRI.
5) Lizze has a slow stomach.  Basically, her stomach isn't emptying, which is causing her many problems, including nausea and choking on her food.
6) Emmett ended up needing a root canal and metal cap to repair a broken tooth.
7) Elliott's hair appears to be falling out. 
These are the main bullet points from the last few days.  As you can see, it's a big 'ol bucket of bad news.
For the most part, we've taken it in stride.  The week has taken its toll on me personally and I've taken ill.  Nothing serious but it's enough to keep me down.
We've got more appointments this week to both follow up and continue the search for answers that will help to provide relief to Lizze.  Unfortunately, right now we are in a really bad position financially and will have to make some tough decisions. 
The truth of the matter is that things are happening so fast that I can't keep up with the increasing demand caused by our surplus of health issues. 
When you can't afford to make the out of town trips needed to meet with your loved ones doctors and specialists, you have to decide which ones can be put on hold.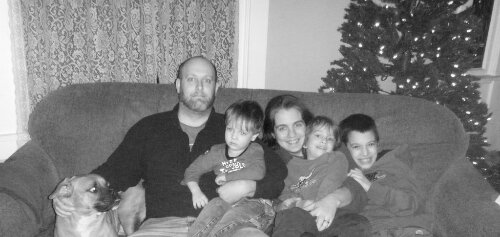 Thankfully, this week doesn't bring with it too many appointments.
We have to return to the Cleveland Clinic at the very least one time.  Akron Children's Hospital is calling our name twice also.
Not sure what we are going to do or how we are going to decide which appointments to keep and which to push off. The problem is that each one of these appointments are extremely important for the health and well being of the person involved. 
The only appointment that is expendable is Gavin's dentist appointment. 
The rest are of significant importance.  Gavin's is just a cleaning and can be put off. 
As extreme as this may seem, it's just another week in the life of the Lost and Tired family. We have to somehow pick up and move forward the very best we can.
One of my plans for this week is to try and find help for my family. We haven't had much luck in the whole finding help department but whatever I manage to find, I will share with the rest of the class. Perhaps it can be of some help to another family out there.

This site is managed via WordPress for Android, courtesy of the @SamsungMobileUS Galaxy Note 2 by @Tmobile. Please forgive any typos as autocorrect HATES me. 😉
Check out my #Autism Awareness Store to find really cool and unique #Autism Awareness Clothing and Accessories, designed by me. 😉
For more ways to help the Lost and Tired family, please visit Help the Lost and Tired Family.