This site is really fighting me anymore.  It's like the powers that be are conspiring to make things as difficult as humanly possible.
In the last year, I've had to change servers twice and it looks like I need to do so once again.  🙁
Our internet was shut off earlier this week because we are of course behind.  I got it turned back on for a few days but the clocks ticking. 

T-Mobile is upgrading all the towers in my area to LTE and so until it's done, all I get is 2G. That's sooooo 2003, at least I'm pretty sure it was 2003ish. 
As most of you know, I use my phone to do most of my writing and my Galaxy Note 2 has taken a dump on me.  This is actually the second one in the last month that has bit the dust. 
I received my replacement today from T-Mobile and as you can see in the pictures, it's going back and will now make number 3. 🙁
Unfortunately, they are on backorder again so it will likely be the end of next week before we can try again.
I was really disappointed to find what appears to be boogers smeared all over the screen.  It's disgusting and even if I cleaned it off, I don't watch that touching my face.
While I'm also disappointed that T-Mobile wouldn't replace my third bad referb with a new phone, they were still great about taking care of the problems and even credited my account, without me asking them to.
I have another week to make my phone limp along until my replacement gets here.
I'll tell ya what, sometimes running this site seems a bit more headache than it's worth.  On the positive side, Lost and Tired is still doing very well and continues to grow each month. 
I have all of you thank for that. 🙂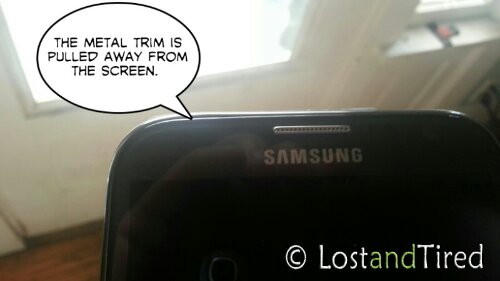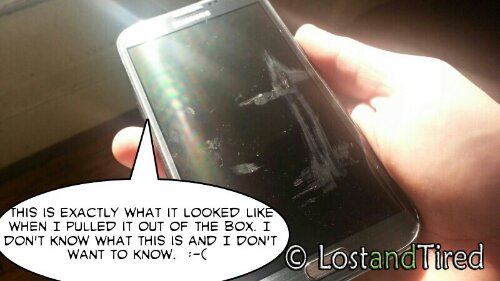 This site is managed via WordPress for Android, courtesy of the @SamsungMobileUS Galaxy Note 2 by @Tmobile. Please forgive any typos as autocorrect HATES me. 😉
Check out my #Autism Awareness Store to find really cool and unique #Autism Awareness Clothing and Accessories, designed by me. 😉
For more ways to help the Lost and Tired family, please visit Help the Lost and Tired Family.