I keep hearing from people that they're able to relate to us because they themselves have been victims of a spite call  to Child Protective Services.
While it saddens me that this seems to be so wide spread, it's also nice to have people that can relate as well.
I'm not really sure how to address this problem but I think that talking about it is a start.  It's never a bad thing to create dialog and discuss something that is of concern.

In my opinion, this definitely qualifies as something of concern.
For those of you tardy to the party, CPS was called by someone who's identity is a mystery.  This mystery person, reported that my wife and I aren't providing our kids with medical care.  Essentially, they are claiming that we don't take our kids to the doctors. 
Child Protective Services showed up at my door last week and advised us that we were under investigation.
After the initial shock wore off and I was done freaking out, I found myself confused. Confusion led to anger and we took the path from that straight down to fear.
Child Protective Services has an enormous amount of power and to be perfectly honest, we were afraid that we were going to lose our kids.  Never mind that fact that we go so far above and beyond to ensure the proper medical care for our boys that we let our own health suffer.
In those early moments, it didn't make any difference that we could easily prove that the allegations were false.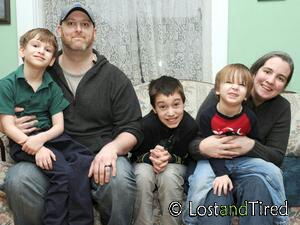 Speaking as a father and a husband, I felt like my family was under attack.
The only option we had was to cooperate with the invasion of privacy because it was the only way to ensure the best interests of our kids.
Right now this is still an open wound for my family and will likely remain that way for some time.
Even still, we feel anxious, angry, betrayed and we long for justice. Personally, no part of me believes the person that filed this report was well intentioned. This was a malicious attack on my family but more specifically on Lizze and myself. The boys are collateral damage.
We don't know who we can trust anymore, especially considering that we very likely know the person responsible.
What have your experiences with spite calls been like? How have they left you feeling? What did you do about it?
This site is managed almost exclusively via WordPress for Android. Please forgive any typos as autocorrect HATES me. 😉
Visit the My Autism Help Forums
To reach me via email, please Contact Me