You may have noticed the recent addition of a Red Equal sign in my banner.  This is something that I've been meaning to do for awhile but haven't had a chance to put together. 
I don't often share my personal beliefs and opinions on things like this. 
That's going to change. In a bid to help you all learn a bit more about me, I'm going to begin sharing more of my personal beliefs on issues that are considered hot topics. 

While these topics don't always relate to Autism or special needs parenting, they do help you get a better idea of who I am at my core. While this may turn some of you away because of conflicting beliefs, I'm hoping that if we have differences of opinion, we can respect each other and continue on with our mission of making the world more Autism Aware.
The addition of the Red Equal Sign is to signify my support for the equal rights of all people to marry.
Lizze and I have family and friends within the gay community and we both love and support them, wholeheartedly. 
Being Catholic, I know what the church tells us but quite frankly, I don't agree.  There's actually quite a bit that I don't agree with.  Does that make me a bad Catholic? Maybe…..
However, I believe in a God that's accepting of all his children, just as I would be if any of my kids came to me a some point and told me they were gay. It would change nothing.  They are my children and I love them unconditionally.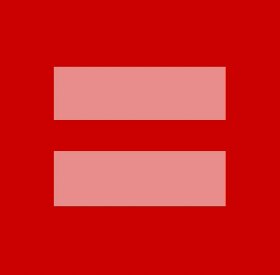 I believe God to be the same way. 
I think that the problem comes into play when human beings pretend to speak for God or try to interpret parables, written in ancient text, meant for the people of that time. Combine that with the human propensity to fear those who are different and you have what we have today. Bigotry.
Look, to be completely honest, while the gay lifestyle isn't my cup of tea, that doesn't mean that I don't respect them. 
I've learned over the years that Love is Love, no matter what the wrapping looks like on the outside. 
When I was 18 years old, I worked at a very popular restaurant.  One of my managers was gay and that was the first time that I had ever met a member of the gay community.  Over time, I realized that what I had been taught by the church and societal stereotypes, was incorrect.
The turning point for me was when my managers partner was diagnosed with prostate cancer.  I watched him go through the pain, fear and anguish that I would go through if someone I loved was fighting for their life. 
My eyes and heart were opened by what I learned.
Look, the truth is, you don't have to like or understand how two people of the same sex can be attracted to each other. 
However, that doesn't mean that the love and devotion they have for each other is any less valid or real than what you feel towards the person your in a relationship with. 
I've come to understand and believe that it's not right to discriminate against people in relationships that are different than mine.  I know that there will be people that do not agree with me but you know what, that's their right and I respect that. 
As for me, I want to state publicly that I hope someday to live in a world that's accepting of relationships, regardless of the gender combination. 
I don't believe that being gay is a choice.  It can't be cured and I don't believe that it's a one way ticket to hell.
However, you and I have a choice to make. 
Do we accept and embrace these people for who they are and who they love or do we treat them differently, as though they are subhuman?
My choice is to embrace, respect and recognize the right for two people, regardless of gender, to meet, fall in love, get married and raise a family.  I believe that this should be a fundamental human right and one that I fully support. 
My wife and I teach our kids to be accepting of others, regardless of what makes us different. 
Kids Learn by their parents example and the example that we choose to provide for our children is one of acceptance and love.
What will you do?
This site is managed almost exclusively via WordPress for Android. Please forgive any typos as autocorrect HATES me. 😉
Visit the My Autism Help Forums
To reach me via email, please Contact Me