Our morning has only been here a short while and already it's filled with screaming and meltdowns. It's like Emmett started his day overstimulated.
Perhaps he didn't sleep well last night or maybe had bad dreams.
Two things set him off this morning.  The first thing was his pet ball. This is a light up bounce ball on an elastic string that straps to his wrist.

He drags this thing behind him and it gets caught on things or tangled up.  It got both caught up and tangled this morning and he just lost it. 
After we got through that crisis, he was definitely primed and ready to explode. 
The next explosive meltdown happened after he got himself dressed.  The shorts he put on touched his knees.  That's it.  His shorts touched his knees and rather than change them or take them back off, he had a massive meltdown.
Lizze and I tried for 20 minutes to help him through it.
When this meltdown passed, he wanted dry Ramon Noodles for breakfast. We decided not to pick that battle and I think that it was a wise decision. 
I believe he gets a sensory fix off of the dry crunchy noodles and it helped to ground him.  It certainly helped this morning, there's no question about that.
Right now he's crunching on his breakfast and playing Pokemon with his brothers.  Hopefully, his day has changed course and he's headed to a better destination. At this point, the outlook is promising but we won't know until we get there. 
When your kids have a meltdown, is there a calming technique that you have found that works well?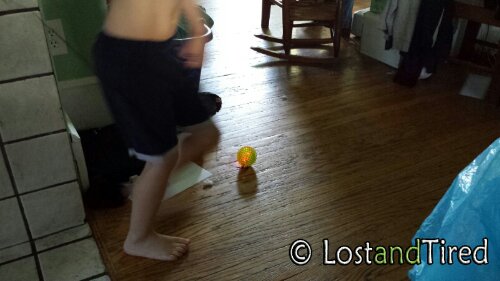 This site is managed almost exclusively via WordPress for Android. Please forgive any typos as autocorrect HATES me. 😉
Visit the My Autism Help Forums
To reach me via email, please Contact Me