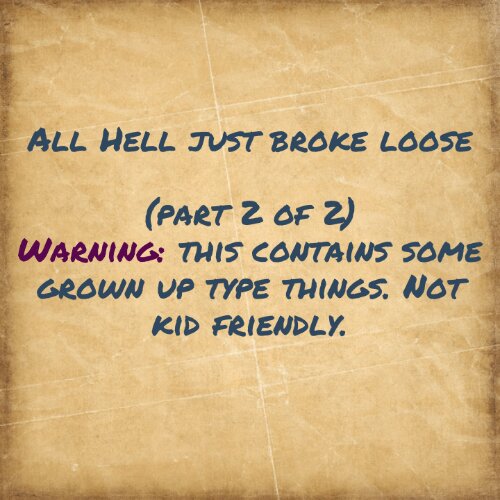 In my last post I was telling you everything that was already weighing heavy on me.  Now I'm going to tell you what happened that's got everyone freaked out. 
Shit went down in our constantly deteriorating neighborhood that if I hadn't witnessed, I wouldn't have believed. Unfortunately, not only did I witness this but so did the boys.

Lizze had just gone to take a nap and the boys and I were in the living room.
I happen to look out my front window as I was talking to my Mother on the phone.  She was going to hang out with the boys, so Lizze and I could grab a nap. Neither one of us had been to bed yet.  I was too stressed out to sleep and Lizze has the whole menopause stuff going on.
I was telling my Mom that I was going to take the kids on a backyard adventure and that I would take a nap when Lizze woke up, so she didn't have to worry about taking the boys.
However, before I could finish the conversation, I had to hang up because something was happening right in front of my house.  That something was the beginning of a string of insanity that I could not have made up if tried. 
There was a tow truck, hauling a small SUV down the road. As it was passing my house, some lady chased it down, hopped into the drivers seat of the car being towed (actually repossessed) and appeared to be trying to drive backwards while the front end was still up off the ground and firmly attached to the tow truck, that was driving away.
There was smoke coming from the front end of her SUV. The harder she tried to get away, the more smoke filled the air.  I could see that whatever she was doing was causing the rig her car was attached to, to shake considerably.
This prompted the truck driver to stop, literally right in front of my house, making our large picture frame window a pseudo big screen TV for some crappy, unwanted reality show. 
A war of loud and non-family friendly words erupted that penetrated the walls of our house as if they were nonexistent. Filling the ears of my three special needs children, which will undoubtedly require a later conversation about why we don't repeat those words.
Lizze came downstairs and I stepped outside to try and figure out, what the hell was going on.  That's when the shit hit the fan.
Turns out the lady arguing with the repo guy lives in our neighborhood (I didn't recognize her at first) and as she ran out the door to chase down the guy repossessing her car, she neglected to close her front door, allowing her three pitbulls to escape and come running after her. 
I didn't see this part actually happen so I don't know what the intention was here but I could see this being an accident but also a means of intimidating the tow truck driver.
This all happened in less than a minute but it was totally slow motion. 
Next thing I know, I hear screaming coming from down the street.  Apparently, the large male, Blue Nose pit, as I'm told it's called, had doubled back and ran up onto my neighbors porch, while full of people and started ripping into this little puppy.
It was complete chaos and the shrieking of the poor puppy being attacked carried through the entire neighborhood. This didn't stop the woman from arguing with the repo guy though. I don't know if she was just preoccupied but it took a great deal of screaming before she even looked back to see all the chaos happening only two houses down.
When she looked back, that was all the repo guy needed to make a clean getaway and he did just that.
By the time she made her way back to try and retrieve her vicious dog, the damage was already done. One of the men on the porch had literally bear hugged the attacking dog and was able to separate the them long enough to get the puppy out of the way. This guy was amazing because he couldn't have weighed much more than this massive pit.
The woman ran up onto the porch and honestly, it was hard to make out what was being said because of all the chaos and screaming. I mean I was standing right there and it was absolutely insanity. There was blood all over the face of the angry, attacking pit and even as it was being pulled away, it was doing everything in its power to continue attacking the little puppy.
I've never seen anything like this before in my life. This puppy weighed maybe 20-25 lbs, perhaps more. However, it was being flung around like it was nothing. It's was absolutely horrible.
She finally managed to get her dog back unto her property and I have to give her credit because she's a tiny woman and this dog fought her every single step of the way. She was kicking it to get it back into the house and it just kept trying to come back after that little crying puppy.
After the dog was secured-ish, a heated argument broke out between the owners of these two dogs, both happen to be young woman.
The victim's owner was obviously upset, more like distraught and was beside herself. I have to say that she really handled herself well though.
The owner of the attacking dog exchanged aggressive words, was pissed off and looking for a fight. I got in between them and kept them apart.
I told my neighbors to call the police and the dog warden. This needs to be handled by the authorities and we don't want to escalate anything further.
The aftermath of this completely unprovoked attack left this sweet little puppy in a bad state. It's had about 2 inches of its tail broken off and dangling, a large whole in its back right thigh and rips and tears all over its chest and front legs.
While I'm not a vet, these looked like pretty serious injuries to me.
I want to be very clear, I'm not anti-pitbull in anyway, shape or form. I'm anti-vicisous dog, regardless of the breed. I'm anti-bad-dog-owner.
What really got me was that this woman's only real concern was that of her car being repossessed and not on what just transpired. She kept saying that she accidentally left the door open when she ran out of the house, like that somehow made it okay that she owns a vicious dog, with a history of attacks.
I asked the owner of the attacking dog if she was alright because she had blood all over the side of her face. Apparently, blood from the puppy that was all over her dogs face had rubbed off onto hers, while she struggled to reign it in.
The really scary part is that this at leastthe third time this particular dog has attacked this summer.
The first time was a few months back and two little girls and their tiny little dog was the target. Once again the happened right outside of my house. This same pit was attacking this little 5 lb dog as these two little girls tried to fend off the attacks.
I ran out and got in between them and the pit. Not the smartest move but at the moment, whatever…. The pit was clearly after the little dog and I picked up the little dog and moved away from the girls, so they could get away and that pit aggressively continued to go after that little dog, even while it was in my arms.
Thankfully, no one was hurt, including the little dog.
The second attack occurred a couple weeks later when this same pit escaped his owners house again. I wasn't witness to that one and I come to find out today that we were actually really lucky that we weren't home at the time.
Apparently, the same pit got out again and came up onto my front porch and was trying to get into our house to get to Maggie or Bella. My neighbors witnessed this happen. Before they could do anything, the pit took off across the street to my other neighbors house and attacked their dog, ripping a large hole in its back leg.
I knew that had happened after the fact but I didn't know that the dog had tried to get to Maggie and Bella first and when it couldn't, it turned on my neighbors dog.
I believe that makes 5 escapes from its house this summer, resulting in 3 attacks, 2 with serious injuries and one involving small children.
The police were called, as was the dog warden. I'm not sure how this will all play out. That said, I have a great many concerns.
I called my Mom back and she came and got the kids. They needed to be removed from the situation and distracted.
Needless to say that I also have three small kids with Autism, that are scared and have a great many questions. Elliott refused to go to bed and wanted to sleep with us. Emmett wants to move his bed back into our bedroom.
They want to know how to stay safe from the bad dog and also why the man in the truck, store the ladies car?
I'm really, really needing to get my family out of this place. I'd be satisfied to put up a giant bubble around our house and a couple of my neighbors and hide from the world.
So that was my day. It's added a sense of urgency to us needing to move. Maybe I'm just stressed out and overreacting but I'm really, really having hard time juggling all of this anymore. As far as this event goes, we've done all we can and it's in the hands of the dog warden now.
This site is managed almost exclusively via WordPress for Android. Please forgive any typos as autocorrect HATES me. 😉
Visit the My Autism Help Forums
To reach me via email, please Contact Me