Good morning everyone.  I have a few announcements   before getting into this post. 
First of all, our Internet will be installed today.  Actually, I installed it this morning but Time Warner has to come out and turn it on at the pole.
This is a huge thing because work is picking up the tab and it's one less thing that I need to worry about.  Victory.  🙂

Once this happens, I will be able to keep the blog update as I used to.
Next, I wanted to remind you all to simply ignore the people leaving negative feedback.  They're welcome to their opinion and we should respect that.  With that said, I believe I know the identity of at least one of the commenter's and it will never matter what I say of do, they will always attack me.  To be honest, it doesn't bother me at all and I ask that we not even dignify them with our time and energy. 
Thank you for defending me and my family.  It means a great deal to me.  🙂
They are few and we many, so let's keep moving forward and not let these little distractions keep us from sharing our stories and spreading Awareness.
I have the best readers in the world and I'm so incredibly grateful for all of your support.  🙂
Now for the update…..
Lizze took Gavin for his IVIG Infusion this morning at Akron Children's Hospital. 
The boys and I are hanging out at home and currently, Elliott is playing Age of Empire's III.  Emmett's quite content to snuggle on the couch with his Bella and watch Elliott.
Gavin had a great morning and my thoughts and prayers are with him and he undergoes this 5 hour long infusion.  The infusions take a lot out of him and they don't always go well.
Hopefully,  today's infusion will complete without a hitch and Gavin will come home and be perfectly fine. 
That's it for now. 
I hope you all have a great day, you deserve it.  🙂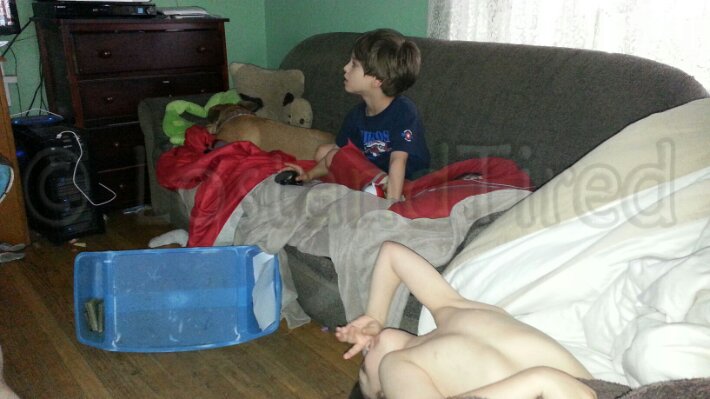 This site is managed almost exclusively via WordPress for Android. Please forgive any typos as autocorrect HATES me. 😉
Visit the My Autism Help Forums
To reach me via email, please Contact Me