I wasn't going to share this at first, not until after we had met with the school. However, I think it's important to see how we handle a situation like this. I hope this helps someone or there.
Everyday when I pick up the boys from school I ask them how their day was.  When I got to Gavin, he explained that he lost 2 points today. 
I asked him what happened and he said that he got frustrated in Math class and that cost him a point.  That's a known problem and his math teacher is working with him. 

He further explained that he lost a point in reading because he had a stomachache and he couldn't pay attention. 
I asked him if he had told his teachers he wasn't feeling well? When I heard his response, I nearly slammed on the brakes in shock. Gavin says that when he told his teacher that his stomach hurt, she replied "well, what do you want me to do about that".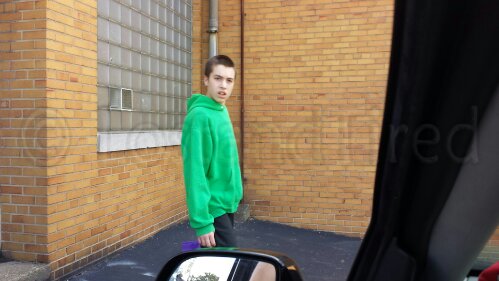 Lizze and I looked at each other and said excuse me? Gavin said, "Dad, that's what they always say when I tell them I'm having chest pain or when my sides hurt."
I asked Gavin what he says in response.  He simply told us that he doesn't know what he's supposed to say, so he just sits back down in his seat. 
Are you fucking kidding me? Are you fucking serious?
It took everything I had not to turn the car around and address this right then and there.  However, we decided that we were to upset at the time and we wanted to cool off and meet with the principal in the morning. 
Lizze and I have made at least three attempts to explain his health issues to his teachers, but we haven't actually had a sit down meeting with them yet because we thought we were all on the same page and it's not like Gavin's a new student.
If this is indeed what is happening, we are clearly not on the same page. 
Now, it needs to be said that while Lizze and I both believe what Gavin was telling us, he's not exactly reliable when it comes to reading people's intentions or understanding what they mean.  This could be a misunderstanding and so we are going to be cool about things until we know otherwise. 
That said, Gavin didn't understand why we were upset and when he finally figured out we were mad at the way he said he was being treated, he shutdown and didn't want to get his teachers in trouble. 
I have no question in my mind that the words were said to him.  The thing I need to clarify is the intention behind them. 
Perhaps they were asking "Gavin, what do you want me to do about it?"  That is something that would be very confusing to Gavin. Maybe Gavin was being really loud and dramatic, which he can be, and was disrupting the class? I just don't know. 
I'm ready to deal with whatever comes our way in the morning. 
To be perfectly honest, I can see how this could turn out to be a misunderstanding but we still need to figure out exactly what's going on. 
While it's difficult not to react emotionally and go off half cocked, I'm doing to wait until I hear both sides of the story.  However, if I find out that he was indeed being blown off, well that's a different story now, isn't it. 
This site is managed almost exclusively via WordPress for Android. Please forgive any typos as autocorrect HATES me. 😉
Visit the My Autism Help Forums
To reach me via email, please Contact Me