Gavin's been having some problems in Math class.  I've spoken about this a few times and expressed my concern. 
Tonight I got a very interesting email from Gavin's Math teacher.
I love being able to email back and forth with the boys teachers.  This is a perfect example of why this is so beneficial.

After having read what had happened on Friday, the resulting loss of points or tickets makes a great deal more sense. I've said this a million times but I'll say it again… Open communication with your child's school is so important.
Here's what happened….
Gavin was working on a Math assessment and did really well until he got to the last three problems.  For some reason, he became frustrated and instead of asking for help, he became disruptive.  The teachers told Gavin to go get a drink and settle down. 
He came back into the room and went right back to work on the last three problems, ignoring his teachers instructions and what he was being told to do.  That cost him a point.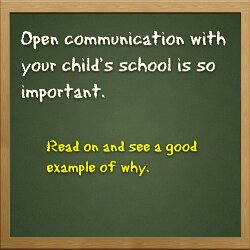 Gavin got upset over the Math problems again and would not listen to his teachers who were trying to help him.  It got to the point that his teacher told him to simply turn in the paper and the three questions wouldn't be counted against him.
Gavin refused to turn in his paper and after a few more attempts to reel Gavin in, he lost another point for refusing to listen and do as he was told. 
This sounds very much like the Gavin we know. 
In his mind, it was more important to physically complete the assessment, than it was to listen to his teachers instructions. 
Historically, Gavin has never handled this type of situation well.  He hates to lose, get a question wrong or make a mistake.  While we haven't seen this from him in some time, this is exactly what he does.  Lizze and I are going to have to speak with him in the morning before school. 
He needs to know that this is unacceptable behavior.
Unfortunately, I know exactly what's going to happen when we tell him this.  It'll go in one ear and out the other.  He won't learn anything from this and the problems will likely continue. 
We are going to have to figure out an approach that will have a better chance of succeeding. 
This site is managed almost exclusively from my Galaxy S4. Please forgive any typos as autocorrect HATES me. 😉
Follow @Lost_and_Tired

"Like" me on Facebook

Visit the My Autism Help Forums
To reach me via email, please Contact Me
Setup of an account with Bluehost and I get paid. If your looking for a host for your website or blog.
Click the image below and check out Bluehost. It's what I use.