We had Emmett's IEP meeting today. It was nice to hear that he was doing really well….overall. Having said that, I was heartbroken to hear some of the concerns. There are a few concerns but one really hurt.
The most expected problem was with speech and language.
He needs help in articulating his letters and he is also substituting sounds as well. However, considering he's basically only had language skills for about 2 years now, he's doing really well. He will be getting the extra help he needs to grow his language skills and learn to better articulate his words.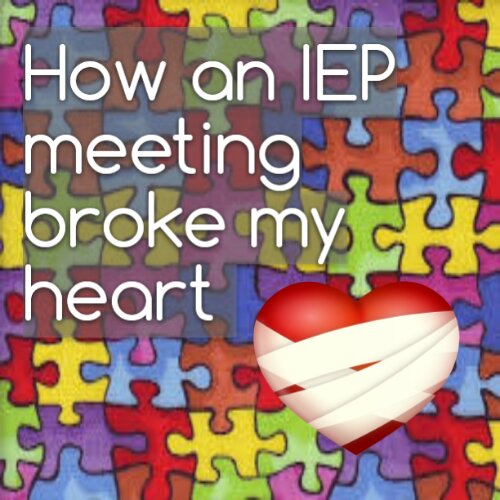 Behavior is also a problem. He's not misbehaving but he's having a hard time staying on task because he's extremely anxious.
He's afraid to even try something new and sorta panics and quickly becomes overwhelmed. This leads to him not being able to pay attention or understand the teachers instructions. This is something that will be addressed as well. We're gonna help him to feel more confident in himself and his abilities.
This next part is what broke my heart and totally knocked me on my ass. I wasn't prepared to hear that Emmett was having a hard time making friends. 
Apparently, he is offering to give his classmates something if they will play with him. His teacher explained that there are times that he's offered to tie a classmates shoe, if that person would play with him. He's even gone so far as to offer up the prize he earned from treasure box to someone if they would let him play with them.
As I'm writing this, my eyes are filled with tears because he feels this is the only way kids will like him.
His teacher is concerned that Emmett will be exploited or taken advantage of, as a result of this.
I'm completely caught off guard by this because Emmett has been very socially appropriate and has always done well with other kids. Maybe I'm overreacting but I feel absolutely horrible and I want to figure out how to help him through this.
My knee-jerk reaction is to tell Emmett that he's such an amazing little boy that if someone doesn't want to play with him unless he gives them something, fuck'em, it's their loss. He's better than that and if someone can't see that, screw'em.
Of course, I wouldn't say it exactly like that to my 5 year old but you get the point.
I feel like I've let him down somehow or that I've not done something well enough to ensure he has a healthy self esteem.
This wasn't what I expected to come out of this IEP meeting but it's better to know, so that we can address it. At the end of the day, the meeting was largely positive and in most cases, Emmett is either on target or beyond where he should be at this junction.
I'm so proud of him for all the success he's having this year. His teachers just adore Emmett and think he's the sweetest little boy ever. He's super smart and adjusting well to his new environment.  We clearly have a few things that we need to work on but all in due time.
Emmett John, I love you so much and if you ever read this, please know how proud we are of everything you are and all that you do. 😉
This site is managed almost exclusively from my Samsung Galaxy Note 3. Please forgive any typos as auto-correct HATES me. 😉
Follow @Lost_and_Tired

"Like" me on Facebook

Visit the My Autism Help Forums
To reach me via email, please Contact Me