Today has really not been too too bad of a day.  It was really long but survivable.
As much as I would have liked to get a nap, that didn't happen.  Somethings going on with Emmett and he keeps getting up in the middle of the night and climbing into bed with us. 
Sometimes, it's bad dreams and other times he doesn't know why he's up. 

All I know for sure is that I'm not getting enough sleep at night and it's killing me during the day. I need as much energy as possible to make it through the day. Lately, I've been starting off at a deficit.
I had a few important phone calls to make this morning after getting the boys off to school.
Lizze went to bed because she wasn't doing well today.
She's having a lot of nightmares again and between those and menopause, she has a really hard time sleeping at night.
I had to pick up Elliott at school and take him to occupational therapy as well. He did really well during his 45 minute session. He listened and was in a much better place after therapy than he was before therapy. He really, really needs this sensory input to sorta ground him.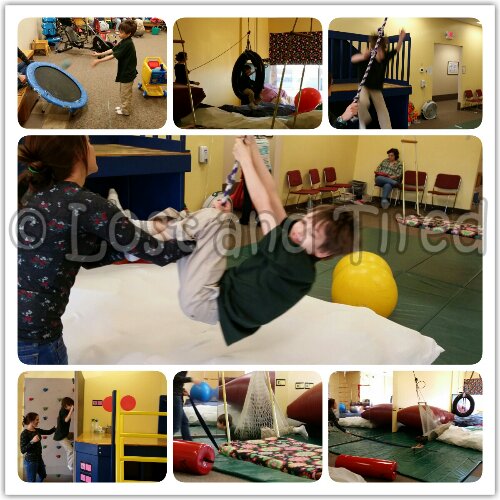 Emmett is in desperate need of occupational therapy as well, but unfortunately, he still has to wait a little while longer.
I did find out while I was there with Elliott, that Gavin will be starting on Mondays for speech and OT. That's something that he needs as well.
Speaking of Gavin, he says that he had a good day today, but I'm not sure what that means. His idea and my idea of what a good day is sometimes differs. I did what I said I was going to do and did not involve myself with his homework.
Since I didn't have to challenge him, Gavin had a pretty good afternoon at home.
Poor Lizze went to bed really early tonight. She's absolutely not feeling well. To be more accurate, she's miserable and so as I'm writing this on my phone (with one hand), I'm scratching her back and trying to help her to fall asleep.
I hope you are all experiencing a peaceful night.
I'm gonna crash and try and get some sleep while I can.
This site is managed almost exclusively from my Samsung Galaxy Note 3. Please forgive any typos as auto-correct HATES me. 😉
Follow @Lost_and_Tired

"Like" me on Facebook

Visit the My Autism Help Forums
To reach me via email, please Contact Me