Special Needs Parenting Guilt is something that I carry with me, every second of every minute of every day. This guilt is very unique in the sense that in most situations, it's an irrational guilt.
You'll have to search your soul to figure this out for yourself.
Having said that, for me personally this is a crushing guilt, irrational or not. I feel guilty about everything, including things that I have absolutely no control over.

When I see my kids struggle, in any capacity, I feel so incredibly guilty because I can't take their burden away from them. I can help them to some extent, but in many cases I can't. I feel guilty because I can't provide a better life for my family, even though I'm already doing everything I can possibly do.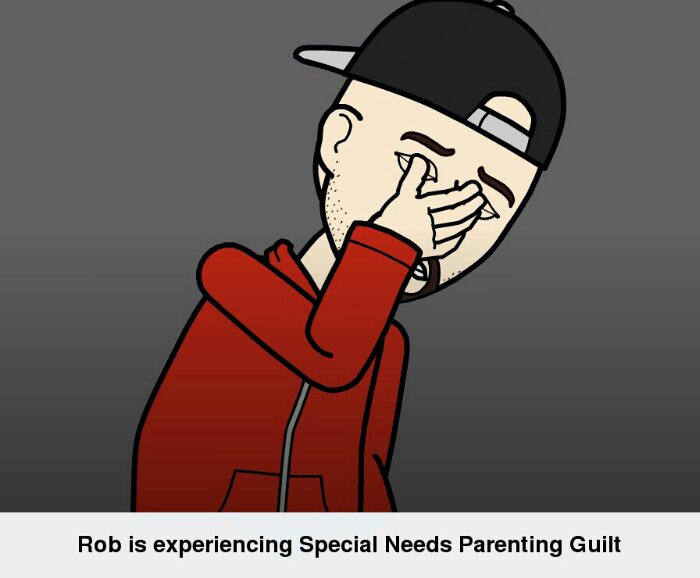 I feel guilty that Gavin is dealing with so much.
There isn't even a way for me to articulate how guilty I feel because I no longer trust him. I know that there are very real reasons for this but that doesn't make it easier. In truth, I'm crippled by a crushing guilt when it comes to just about everything with Gavin.
I feel guilty that Elliott and Emmett have taken a back burner to Gavin on so many occasions. I feel guilty because of what Gavin has put them through along the way.
I feel guilty that it took so long to decide to move Gavin out of the house last year. It was absolutely necessary for everyone's safety but I also feel guilty for removing my son from our home.
This is an endless, wrenching weight on my soul.
Why am I sharing this?
Because I want all of you out there to know that if you are experiencing this type of needless and yet debilitating guilt, you aren't alone.
Hang in there and try to remember that you are only human and as such, you have limitations. You can't fix everything. I know that deep down, sometimes it feels like as parents, we should be able to fix everything for our kids. Sadly, that's not always possible. Please try not to beat yourself up over this. I know I'm the last person that should be saying that. O_o
I'm trying really hard to do the very same thing. Maybe we can help each other to remember that we can only do so much. 🙂
This site is managed almost exclusively from my Samsung Galaxy Note 3. Please forgive any typos as auto-correct HATES me. 😉
Follow @Lost_and_Tired

"Like" me on Facebook

Visit the My Autism Help Forums
To reach me via email, please Contact Me